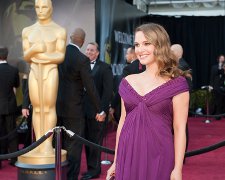 Natalie Portman looked perfect in purple All photos on this page ©A.M.P.A.S. Credit: Ivan Vejar
While we all want to see who walks home with the Oscar statuettes, the gowns and glamour of Academy Award night are nearly as talked about. It's big business for fashion designers, who are ensured global free advertising courtesy of some of the hottest names on the planet. And this year, there were more hits than misses on the red carpet.
The heavily pregnant Natalie Portman still managed to pull one of the fashion accolades of the evening as she accepted her best actress award in a stunning purple chiffon off-the-shoulder dress by Rodarte. The delicately draped design made way for her rather flattering baby bump. Her acceptance speech flowed with the usual thanks right down to hair and make-up, but also included enough emotion to keep us hooked. A charming fiancé reference to, "my beautiful love Benjamin Millepied, who choreographed the film and has now given me my most important role of my life," brought tears to her eyes and ours. Although they missed out on a costume credit for Black Swan, Rodarte designers Kate and Laura Mulleavy are still set for glory in an exhibition of the film's tutus worn that Portman and co-star Mila Kunis wore (next month, Museum of Contemporary Art, Los Angeles).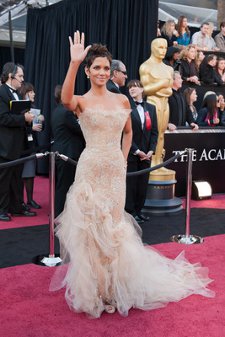 Halle Berry romantic in ruffles Credit: Ivan Vejar
Colin Firth maintained an impeccable English dignity and modesty when collecting his award for Best Actor, wittily referring to his fellow performers, "whose virtuosity made it very very difficult for me to be as bad as I was planning to be," and to his wife and family, "for putting up with my fleeting delusions of royalty." He concluded a straight-faced but very amusing speech with references to going backstage and letting his muscles break out into dance moves of delight.
Halle Berry looked romantic in a nude Marchesa dress with sparkling fitted basque, crystal-encrusted, and a mermaid tail design of silk tulle ruffles. Onstage during the Awards, Berry presented a tribute to Lena Horne as the first black actress to sign with MGM.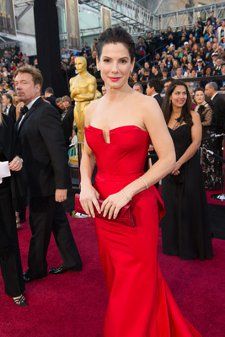 Sandra Bullock in Vera Wang credit: Richard Harbaugh
Two colours stood out on the carpet. One was red. Jennifer Hudson needed a man to carry the very full train of her deep tangerine-red Versace gown. Anne Hathaway, later co-hosting the Awards in many changes of costume, stood out on the runway in her pillar-box Valentino, pausing with the designer himself for photos. Jennifer Lawrence wore minimalist Calvin Klein, a long red dress offset only by unobtrusive Chopard jewellery and cascading blonde hair. Penelope Cruz cemented her reputation as fashion diva in a dark red gown by L'Wren Scott. It simmered with sequin flame patterns, and her glamorous entrance was all the more impressive for being only a month after giving birth to her son. Sandra Bullock also went for red in a beautifully cut Vera Wang that was both refined and elegant.
Shimmering nude-coloured gowns were also a big hit. Halle Berry's colour choice was in good company, as Hilary Swank scored a controversial success in her sleek silver Gucci gown that tapered to a fussier skirt of ostrich feathers. Meanwhile, Michelle Williams went for a sleek Chanel number, and Mandy Moore looked as if she had been sprayed with diamond dust in Monique L'Hullier.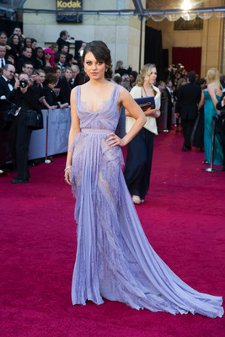 Mila Kunis in Elie Saab credit: Darren Decker
Black Swan co-star, Mila Kunis, raised eyebrows with a plunging neckline on her lavender Elie Saab couture gown. Its delicate design looked almost ripped at the bodice. Subtle and feminine, yet daring, her choice had her tipped both as fashion faux-pas by some, and winner of the Red Carpet by others.
Hathaway and co-host James Franco failed to impress with their rather lukewarm and gentle humour. It didn't upset anyone – but would hardly persuade viewers to tune in the way they did when Ricky Gervais hosted the Golden Globes just weeks ago. Hathaway, as the youngest-ever Oscars host, joked about Gervais' spoof Oscars speech on his blog. But Hathaway had promised, "I won't be mean like Ricky," and she wasn't.
The best speech accolade of the night went easily to 94-year-old Kirk Douglas, presenting best supporting actress. Immediately flirting with co-presenter Anne Hathaway as he arrived on stage, he asks: "Where were you when I was making movies?" After cueing "the moment we've all been waiting for," he holds the suspense by joking with audience members and delaying, saying he would "never forget the moment." Neither shall we.
Share this with others on...