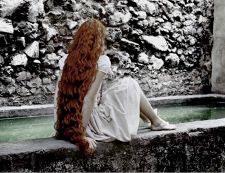 Of Love And Other Demons
Given the pace of the Glasgow film festival, it isn't unusual to come down with an illness part way through. On Sunday morning my throat was aching and I was running a fever, but my house was out of lemsip and there was no time to sort anything out between writing, editing, and getting to my first screening. It seemed appropriate, though. Of Love And Other Demons is partly about fever, initially in the literal sense, later in others. It's a beautiful adaptation of the Gabriel García Márquez novella, dreamily paced and not demanding too much energy, though there's a lot to pay attention to. Having been mildly disappointed by previous renditions of the author's work I was very pleased by this, and all the more impressed because it's director Hilda Hidalgo's first film. Unfortunately it doesn't have a British distributor so if you want to see it you'll have to import a DVD or write in and lobby for someone to pick it up.
This intensive start to the day meant I wasn't able to get a proper breakfast, just the squashed cupcake I'd received in my goodie bag at the opening gala and held onto for several days because I wasn't a hundred percent sure it wasn't a soap (it tasted overly sweet but I didn't foam at the mouth, so I think I'm okay). After the film finished I stopped by the GFT to pick up a ticket for the List Surprise Movie on Wednesday night, then headed straight to the CCA to meet Drew (Andrew Robertson) and get a cup of tea. He ordered chips which I cheerfully stole about half of, and he updated me on the short films he'd been watching. It sounded as if the recent ones were among the best, with Spider Fang especially pleasing to the audience. Unfortunately, the previous day's problems had continued. The staff member introducing a programme about masculinity in crisis said he was beginning to identify with some of its characters.
Drew was in a good mood, anyway, as he had made new friends and been invited to be part of the jury of a forthcoming Latvian short film festival. We stayed in the CCA until Susanna Krawczyk, also of Eye For Film, was able to join us, whereupon we had a proper lunch. With most of the short film work over, everyone was in a good mood, director Bjorn Bratberg relaxing at the bar after a screening of his documentary Wood Of Value. Many were preparing for a closing party at the sub club that night, though we had quite enough to be getting on with as it was.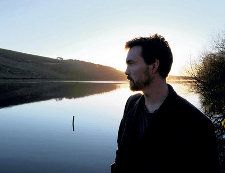 On my way back to the GFT I bumped into Stuart who had just been photographing a surviving crew member from The African Queen and was on his way to another assignment. In the lobby I briefly caught up with festival director Allan Hunter, who introduced me to Bruce Goldstein, the man behind Friday night's horror extravaganza. He's a charming, friendly man, and to my great delight it turned out that he had the star of Friday's show, The Tingler, wrapped up in bubble wrap in the carrier bag he was holding. "Would you like to feel it?" he asked. Well, it's not the first time I've been asked that by a strange man in a cinema and it probably won't be the last, but this time I was happy to do so, and gave the tingler a stroke, being careful, of course, of those deadly appendages that once gripped the throat of Vincent Price. I can die happy now.
Just in case I had been feeling too cheerful, I subsequently found myself in a screening of One Hundred Mornings, a grim tale about the (unexplained) collapse of civilisation and its effect on the lives of two couples holed up in a farmhouse in rural Ireland. Intelligent and well made, it didn't entirely overcome the difficulties one would expect for a film about a situation where people hope something will happen and it doesn't, but it still held the attention of the audience. My friends Lindis and Aurelia, whom I met there, also enjoyed it. Afterwards Lindis and I went for a cup of tea in Café Cosmo and she told me how much she had admired When We Leave, the German Turkish film she saw yesterday, though it too was pretty depressing.
After Stuart had finished photographing the talent behind Archipelago on the red carpet, the three of us walked down to Cineworld to grab some food before he went to cover the Q&A after The Big Uneasy, with director Harry Shearer (aka Spinal Tap bassist Derek Smalls) investigating the political corruption surrounding the devastation caused by Hurricane Katrina, with little gems like his discovery of rows of abandoned fridges decorated by local artists. My next screening was just upstairs, which was a relief, as my fever, milder during the day, had returned with a vengeance. I only hope I wasn't infectious as the screening was packed; I sat on the end of a row and tried not to breathe too close to anyone.
This was Cell 211, a Spanish action drama about a prison guard who, being shown around before he officially starts his new job, gets caught up in a riot and has to pretend to be an inmate in order to survive. It sustained its premise remarkably well and, overall, I was very impressed, as were the rest of the audience. Hard-hitting, smart and thought-provoking, it's something that I hope we will see on general release in this country in not too long.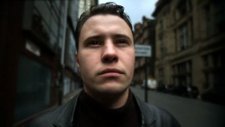 By the time I got out it was half past eleven and I was ready for my bed, not exactly thrilled at having to walk home through a city full of drunken football fans, but there's next to no public transport on a Sunday. Halfway back I got a call from Drew and we met up so he could tell me about the short film awards - the jury prize went to The Cage, which everybody loves, and the audience award went to The Pedestrian, which he thought was okay but rather lived up to its name. It had been shown in one of the better-attended screenings so that probably contributed to its success. He proposed a more elaborate, weighted voting system to work around this problem but I pointed out that this may not be the best idea for a short film team which had enough difficulty just doing things like getting the programmes to start on time.
Back at my place, we had a cup of tea and Drew wrote up his Pedestrian review so you could all see what the fuss was about. We also had admin stuff to deal with so it was at least three before I got any sleep. I was woken shortly after ten by a message from Stuart to say that Harry Shearer was stranded in Glasgow after he'd discovering he'd left his passport in London, a problem because he was due to appear at the Dublin Film Festival. Well, I've had to rescue a few rock stars in my time - one who took so much cocaine he could hardly speak, let alone sing; one who passed out cooking chips and nearly burned down his house; a popular American band who told me they were performing 'somewhere in Ireland' the following Tuesday and could I find out where it was; so I guess it was only a matter of time until one of the stars behind Shark Sandwich turned up on my rescue list. In this case, however, all I could usefully suggest was a courier service; I may have to work with the Culture Secretary next month and I don't want to be in trouble for people smuggling just to meet the demands of excited film fans.
There was no time to get back to sleep so I went to my desk and got some writing done, then checked in with Drew who, the short films being over, was off watching Detective Dee And The Mystery Of The Phantom Flame, a Chinese epic he found delightful and which he says is worth watching for the Empress' costumes alone. It centres around the popular investigator being called in to investigate when courtiers begin to spontaneously combust. I did wonder briefly if any of them had ever drummed for Spinal Tap. Anyway, after that he was off to see Life Behind Bars, part of the festival's The Stasi Are Among Us strand which, ironically enough, isn't providing any routine press access. Lindis tells me that German television is, in the wake on Goodbye Lenin, somewhat saturated with what they refer to as 'Ostalgie', but this was an interesting opportunity for British viewers to see something of it.
This being Stuart's one and only festival day off (though of course he had a lot of image processing to do), we were able to enjoy a civilised evening meal together, but after that I had to hurry off back to the GFT for a date with an alien monarch - Aelita: Queen Of Mars to be precise. I guess she's not that into me, though, as she had brought along Bristol/London band Minima to keep her company. Their blend of orchestral and techno music was well suited to the fluctuating themes of this 1924 silent drama, whose festival screening couldn't have been more timely, focusing as it does on ideas about revolution and the importance of hard work and vigilance in building a new society. Aelita is ready to lead the workers' revolt, but does she really support their cause or does she just want more power for herself? The story is surprisingly complex and skilfully told, though it also contains some amazing lines like "We have voted. Put a third of the workers into cold storage." I guess it's one up on the gulags.
Getting home before midnight, I might almost have had an early night, except I had to charge my phone and do some editing. News was coming in of further uprisings in Libya and trouble brewing in Bahrain. The festival has already had to cancel planned screenings of Microphone because it just wasn't possible to get the print out of Egypt due to all the unrest there. If all this politics makes art seem less important, it's worth remembering that events like the GFF provide an important opportunity for creative people from around the world to make their voices heard, often in opposition to their governments. Just make sure you're paying attention.
Share this with others on...