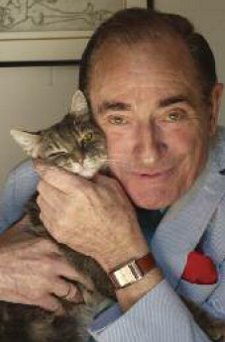 Pierre Étaix is attending the festival
The French Film Festival reached its 18th birthday milestone at last night's opening night - and there is definitely cause for celebration, as this showcase of Francophone movies goes from strength to strength.
Following up on the successful retrospectives of their 17th edition, including the screening of several Jean Eustache films that had long lain unseen and a comprehensive Jacques Tati strand, last night's edition kicked off in Edinburgh's Filmhouse with a newly restored print of Le Grand Amour (The Great Love) by Pierre Étaix and a Q&A with the man himself.
The 82-year-old director, actor and clown was mentored by Tati and has worked across every medium from circus to music hall, film and illustration. Le Grand Amour is a riotously imaginative look at a trouble brewing in an idyllic marriage. While it has some wonderful moments of inventive physical comedy reminiscent of Tati, it also has a much deeper emotional resonance than you might expect from a film containing so much slapstick.
Étaix takes the central role of Pierre who, though everything is apparently wonderful with wife Florence (Annie Fratellini), finds the arrival of a very young and attractive secretary (Nicole Calfan) is a temptation. Some of the male and female stereotypes presented here are, inevitably, very much 'of their time', but the manner in which Étaix explores Pierre's dilemma is way ahead of it. There are sleight of hand scenes offering different takes on the same event, giving comic life to rumour run wild, while a segment that sees Pierre's bed drive out of his bedroom and take a ride among the other beds of dreamers is the sort of thing you might expect Michel Gondry to come up with.
At 82, Étaix is incredibly sprightly, attending the festival's opening night in a suit with matching vibrant red tie, handkerchief and socks. Introducing the film he instructed us: "You've all to laugh as though it was 40 years ago when it was first shown. It's great that you've left your TV sets behind for once. This is where things happen, in a cinema itself."
The French Film Festival director Richard Mowe described Étaix as being "re-energised" by the fact that his film is finally being brought to new audiences - and its no surprise, since he spent 20 years fighting for it to happen. Having given the rights to a company who said they would restore his films and release them he, and co-writer Jean-Claude Carrière, found themselves embroiled in legal wrangling after the firm failed to make good on its promise. In the course of their fight they manage to garner support from more than 55,000 people, who signed a petition, and were backed by comic giants including Jerry Lewis - who describes Étaix as "one of the great forces" of comedy in the 20th Century - and Woody Allen, not to mention David Lynch and actress Leslie Caron.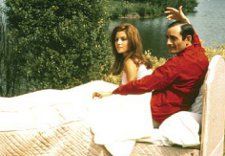 The ending, however, is a happy one, with the films now beautifully restored under the watchful eye of French foundations Groupama Gan Foundation and Technicolor Foundation for Cinema Heritage. Étaix has collaborated closely on the restorations with the head of the Technicolor Foundation Severine Wemaere and Head of Groupama Gan Foundation saying: "Pierre welcomed us with open arms into both his past an present. Interview followed interview, each revaling new aspects of a body of work that is quite unique: music hall, film, circus, magic, and Pierre's whole artistic world of his drawings, posters, installations..."
Speaking about the fight for the rights, Étaix is clearly relieved.
"It has been a very long struggle. I don't feel sad and sore about it because at least now people can see and enjoy the films. But if those people were in this room... I might not be very nice to them.
"What was extraordinary was that it wasn't just my friends and all the comedians showing support, but people who had actually seen the film and were showing that they loved it.
"What is even better for me is to see that you are here and have enjoyed the film. You've invited me to this place and put me on a pedestal, but I'm only a small person really and I don't deserve it. But thank you."
Despite his self-effacing seriousness Étaix is still a clown at heart and it isn't long before he has the cinema in fits of laughter with some 'magical' business involving a disappearing and reappearing cigarette.
He goes on to reveal how he came to work with Tati.
"Jacques Tati was the person who brought slapstick back into French cinema with Monsieur Hulot and Jour De Fête and he was talking to the young people and trying to push this idea of slapstick," he says. "I heard that and wrote to him and Tati said, 'Come and work with me.' And we worked together on the script of Mon Oncle - that's how I started. Basically, it was fate or divine intervention."
A member of the audience suggests they would love to see a collaboration between Jacques Tati and The Illusionist director Sylvain Chomet. It turns out the connection between the two is closer than you might think, since Tati approached Étaix to be in the, ultimatley never made, live-action version of the film years ago.
"Tati told me about this story but he had only a vague idea about what it would be," he says. "Tati said he would never play the role of The Illusionist because he was too old and not enough of a seducer. So, he would never have imagined the character as was portrayed by Sylvain Chomet.
"Basically, Tati never worked on any serious scenes from it, but he was asking me to elaborate some sketches from it, but it never went very far. One of the sequences that Tati suggested was that a character would be in the cinema behind the screen and, while a film was playing on it he would be behind it preparing a sketch. It would be a dislocation between the real and cinema. I worked a bit on that but not very much."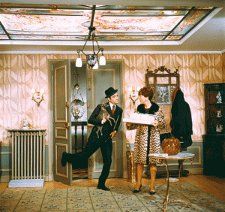 Back on the subject of Le Grand Amour, he reveals it was shot in Tours, although originally he wanted to shoot different scenes in different places to create a fantasy town. "My producer said, 'No way'," he adds. "It was too expensive."
But he refuses to be drawn on the mechanisms behind some of the stunts in the film - particularly the scenes in which a bed is driven along French country roads.
"It's a bit like asking a magician how he does his tricks," he says. "It was quite complicated. I and my cameraman thought up ways of doing it but we both promised each other that we would never ever tell how it was done and I'm keeping my promise."
And Pierre - who was recently seen in Jean-Pierre Jeunet's Micmacs - has no intention of quitting yet. When asked if he plans to make other films he says, "Yes", adding, while comedically beating at his heart, "But I've got to hurry up."
Away from the retrospective aspect of the festival, there is plenty of brand new cinema to enjoy. The French film industry is prolific, producing somewhere in the region of 200 films a year and with just a dozen or so making it to art house releases in the UK during a year, this showcase really is the only opportunity many cinemagoers will get to see these films onscreen. This year's programme is typically diverse, running from fun family adventure Little Nicholas - about a schoolboy with a very vivid imagination - and Trouble At Timpeltill - which sees kids awake one morning to find all of the adults in their village have diappeared - through to moving migrant drama Eden Is West and historical films including An Ordinary Execution and The Princess Of Montpensier.
There is also an accompanying photography exhibition of portraits by Laurence Koffel - taken in Cannes this year - showing throughout November at the French Institute at 13 Randolph Place in Edinburgh. Those looking for more experimentation should also check out Seville 82. This live music event, at Edinburgh's Bongo Club on November 28, features footage of France's classic semi-final World Cup match against Germany, set against rock music to provide an inventive interpretation of the game.
Our coverage of the French Film Festival is ongoing here, and you can find out further information from the official site.
The trailer for the festival is below.
Share this with others on...