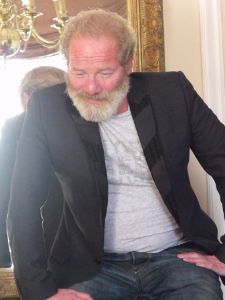 Peter Mullan, director of Neds. (mantelpiece stool just out of shot)
Of the list of odd things I thought I'd see at a film festival, it's safe to say that Peter Mullan perched on a mantelpiece wasn't one of them. But that's where he was at the start of an interview session yesterday.
Sporting a beard big enough to put you in mind of the North Pole and Christmas, he said: "I've done some surreal things in my time... but a press conference from a mantelpiece is a new one on me."
Hopping down from his perch, he proved yet again what a great interviewee he is answering anything and everything thrown at him about his latest film NEDS (more on which here) - which will have its UK debut at the London Film Festival next month. Speaking about its inclusion in the competition line-up here in San Sebastian, he revealed that it had fallen between the two stools of Cannes and Venice. Cannes had offered the film a place in Un Certain Regard but, understandably, Mullan wanted the it in the main competition slate, so was anxious to see whether Venice would include it - the problem being a decision deadline clash. In the end Venice declined and Cannes took the delayed response as an insult and also withdrew the offer.
"Venice clean knocked us back," he said. "She said it was 'too 'classical'. I was shocked.
"In fact, their exact words were, 'If you'd have submitted it two years earlier we'd have given you the Golden Lion.' I said, 'What, I'm two years too late? What the fuck is that supposed to mean.
"My film was about to disappear down the fucking plughole," he added, before going on to say how grateful he is for its inclusion here and at Toronto.
And he is more than happy for his film to compete.
"We made this for £3.5 million and that's it, so if getting into a big festival means that maybe one of my actors gets a gong or something like that, a, it's great for them and b, it's great for the film. Obviously, it doesn't make sense; how do you compare one actor with another or one film with another? But if it's there and it's done in a spirit of goodwill. I would rather a jury system than a corrupt voting system that you get with the Oscars and the BAFTAs. I don't rate them any more - I used to when I was a kid. Particularly Oscar, it's so corrupt. Money can buy you an Oscar, there's no doubt."
Mullan, who is currently working on First World War drama War Horse with Steven Spielberg - which he describes as "working with a living movie encylopaedia" - says he has even discussed the awards issue with his co-star.
"I was talking to Emily Watson yesterday and I said, 'I don't believe in them any more.' and she said, 'Yes, but you still want one.' And I said, 'No, I don't actually'. And, really, I felt bereft, because we all used to do our Oscar speech when we were kids - we all do it. But I don't have that any more, so I kind of live that little dream through my kids, because they're more impressed by movies than I am. And I miss it. I loved all that, but now I wouldn't as been as impressed, the sheen's kind of gone for me, particularly having seen other side. I wouldn't trust them. That's not to say Oscar winners have not done a great job. But there's a lot of money involved. It's not pure."
As for NEDS, it's pure Glasgow and all the better for it.
Youth gangs in Scotland, however, are a far cry from my first film of the day, which deals with one of the perils at the other end of the ageing spectrum - Alzheimer's disease. I find it by turns ironic and rather scary that I can't seem to remember which order the three words of the film's title - Bicycle, Spoon, Apple (Bicicleta, Cullera, Manzana) - come in. Let's hope it's not a sign.
Of course, I don't mean to be flippant, since Alzheimer's is an enormous issue for the world, which with an ageing population, is growing year on year. But, as this documentary shows, just because it is incredibly serious, doesn't mean you have to lose your sense of humour. In Britain, Terry Pratchett has, unfortunately for him and his family, become a spokesman for the disease after being diagnosed with the particularly pernicious early onset variety (although, let's be honest about this, it doesn't matter what age you get it, it is still a living nightmare for sufferers and their loved ones). In Spain, Alzheimer's has also proved to be no respecter of social standing, striking the former president of Catalunya, Pasqual Maragall in 2007. "I want it to be fun, dammit," Maragall tells director Carles Bosch, when he asks him to follow him and his family and tell their story as they battle the illness and try to set up a foundation to carry out further research.
What follows is an admirable mix of two years' of personal anecdotes from Pasqual and his family and the science that lies behind the disease beginning to take a grip.
There is plenty of talk and illustration of Alzheimer's as a "new epidemic" - but despite the humour of Pasqual and his family, it's clear to see the toll his gradual slipping away is taking. "I'm fed up with the 'pity the poor things' issue," says Pasqual. It is empathy and a deep longing that things could be different for him and all the other suffers - and, more particularly, their families - that lingers with you after this.
Also featuring a rich vein of humour and not a small amount of melancholy was my second film of the day Honey (Bal) - which won the Golden Bear at Berlin.
An intimate portrait of a rural family in Turkey it focuses on Yusuf - a little boy who stutters when he speaks out loud, so either talks in whispers to his family or barely speaks at all and what happens to him when his bee-keeper dad goes off alone in the forest to set up some hives. It is the third in Semih Kaplanoglu's trilogy of films tracing the life - in reverse order - of a poet named Yusuf. I confess I haven't seen the other two films - Egg and Milk - after being put off by Kaplanoglu's ponderous and over-stylised directing style in Angel's Fall.
Honey, however, is a much more accessible and naturalistic film - and all the better for it. It's true that not a lot happens in terms of narrative - and what does happen proceeds sedately - but in terms of the emotional trajectory of the seven-year-old Yusuf (Boras Atlas, quite simply adorable) it has a monumental sweep. It is also full of enduring images and soundscapes - from the jingle of the bells Yusuf wears (presumably so his family can hear where he is), to the sights and sounds of the forest. Cinematographer Baris Ozbicer recalls Vermeer with his rich colour palette perfectly matching the rustic setting, emphasised by Kaplangoglu's slow pacing that initially renders many scenes like intricate still life. Not one for those who like their stories to crack along, but as an intimate portrait of a little boy, it has much to recommend it.
Share this with others on...