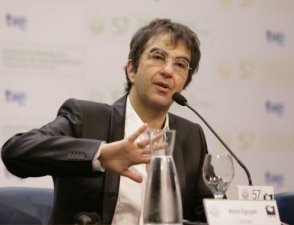 The rain in Spain falls mainly - on this city, at least this week. Tipping it down again this morning. Sploshed my way to the Maria Cristina Hotel - the place to be seen if you're a star in this town - for round table interviews with Atom Egoyan about thriller Chloe.
We'll be bringing you the full interview at a later date but among the topics covered was a discussion of love and people's ability - or not - to allow themselves to be loved, the upside/downside of working on a more mainstream film than he has previously and, the casting of Amanda Seyfried in the titular role.
On the subject of indie/mainstream cinema, he said: "I love seeing mainstream films and independent work. But I realise my sensibility as a filmmaker is more individual and I resist formulas. I can watch formula but as a maker I'm very suspicious of being in a place that I think someone has been in before."
It was time for a quick dash - in the rain, of course - over to the Kursaal conference centre, the huge auditorium of which plays host to many of the films here across the week, for a screening of François Ozon's Le Refuge. Of all the French filmmakers working today, you'd think Ozon was one of the last ones who would make a member of his audience pass out, but those who don't like the sight of injections and needles should beware. After a scene showing one character injecting drugs into his neck, someone passed out in the auditorium and it was around 20 minutes before they were able to restart the film.
The film focusses on a drug addict's pregnancy, with the emphasis on the pregnancy rather than the addiction - although the central character Mousse (Isabelle Carré) is seen taking methadone throughout. The refuge of the title could refer to any number of things in the film - the false 'safeness' offered by heroin in the films first act, the house to which Mousse 'escapes' to see out her pregnancy or just the friendship of others, which plays a critical role in the film.
Carré was actually pregnant during the making of the movie, allowing Ozon to make a thorough examination of the physical metamorphosis brought on by impending motherhood, the like of which I can't recall seeing in a fiction film. Carré is excellent in the central role and given some good support from Louis-Ronan Choisy, as the brother of the baby's dead father, who forms an unexpected relationship with Mousse. Although losing some of its pace in the middle scenes, this is a touching exploration of relationships, with an insistence that happiness can be found outside of the conventional. Yet another femme-centric film to add to Ozon's burgeoning back catalogue.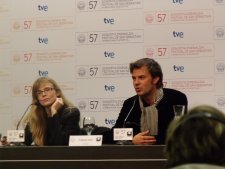 The film was followed by a press conference with Ozon, Carré, Choisy and Claire Vernet - who plays Mousse's mother-in-law in the film and, seeing the dashing Ozon in a funky cravat, I can't help thinking he must be one of the only directors around who is better looking than his leading man (and, let's face it, Choisy is no slouch).
"I had not wanted to make a film whose main issue is maternity," said Ozon "Maternity is one of the issues. I wanted to show that maternity does not necessarily have to be the desire of having a child. Sometimes materinity can be the means in order to hold the pain of something differently. Mousse lost her companion without having any family, but because of the fact that he has died, she wanted to keep it and keep him within her. That's what I wanted to show that maternity, is not necessarily just confined to the need of having a child, but can be related to much more complex things."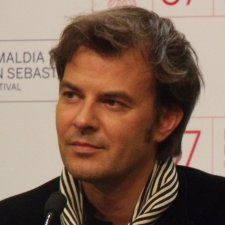 Speaking of the fact Carré was pregnant during the filming, Ozon refers to a sense of it being, in many ways a 'documentary' about that, as well as a fictional story. It's clear, though, that Carré feels somewhat uneasy with that suggestion, understandably, since the character she is playing is a drug addict.
This evening, I had the chance to catch one of the films I've most been looking forward to at this year's festival, Juan José Campanella's The Secret Of Their Eyes (El Secreto De Sus Ojos). I was a big fan of Campanella's comedy with a heart, The Son Of The Bride (El Hijo De La Novia), and here he collaborates again with Ricardo Darin.
This film - about a court worker-turned-writer who is obssessed with the case of a woman who was raped and murdered 30 years previously - is part crime thriller, part will-they-wont-they romance and part examination of the political landscape of Argentina in the Seventies. Campanella yet again proves his agility as a director, thrusting us back and forward in time with ease and never falling into the trap of making us feel lost.
The director's work on TV dramas such as Law And Order: SVU is also put to good use here, with the crime/thriller aspects of the plot standing up well against the humour of the unrequited love story between Darin's Benjamin and his much younger bos Irene (beautifully played by Soledad Villamil).
Tense, funny, touching and bittersweet in all the right places, this is a film that deserves to make it off the festival circuit and into arthouse cinemas.
I intended to make the end of the day a double-bill of Darin, but I managed to pick the wrong cinema, meaning that instead of El Baile De La Victoria, I was treated to Norteado (Northless) instead. It turned out to be a very happy accident. Sweetly affecting, this would make a great double bill with the rather more hyperbolic Sin Nombre. You can read the full review here
All in all, another successful day from the vantage point of a cinema seat. Tomorrow promises German film This Is Love, Michael Haneke's The White Ribbon, Christophe Honore's Making Plans For Lena and, if I have the stamina, a second shot at El Baile De La Victoria.
Share this with others on...