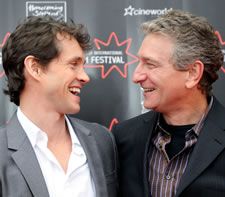 Hugh Dancy and Max Mayer on the red carpet at EIFF Photo: Helen Smith/EIFF
Asperger's syndrome - a condition on the autism spectrum - which often sees those affected struggle with social interaction and engage in repetitive behaviour, is taking a key role in films this year. Sundance thrust two of them into the spotlight - the darkly comic stop-motion animation Mary And Max - and lighter, romantic drama Adam. The second - which stars Hugh Dancy and Rose Byrne - is arguably more easily marketable and was snapped up by Fox Searchlight, making its way into UK cinemas this week.
When the film had its UK premiere at Edinburgh Film Festival in August, we caught up with Dancy and director Max Mayer to chat about the film and its sucess so far (it won the Alfred P Sloan award for science references at Sundance).
Discussing the sudden appearance of films which touch on the disorder, Mayer says: "Autism spectrum I think has become a much more prominent issue. I don't know what the statistics are like in Europe, but now it's one in 150 people in the United States are diagnosed as somewhere on the autism spectrum."
The director goes on to say that he was inspired by an Asperger's syndrome sufferer he heard on the radio while he was in his car. He says the story caused him to pull over to the side of the road so he could listen properly.
He added: "I thought, this doesn't happen to me very often, so I should figure out what this is about. So I did some research on Asperger's and the more I found out about it the better metaphor it seemed to me for the issues in relationships in general."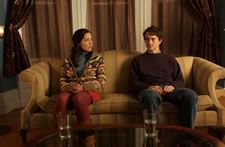 The result is Adam, the story of an Asperger's sufferer - played by Dancy - and his developing relationship with his neighbour Beth (Byrne). Taking on the role of Addam led Dancy to want to find out more about the condition.
"The script arrived without any covering note or description – all I knew was the title, so I didn't know what I was reading," he revealed. "So the first thing I thought was, some way in, I was seeing this character was there and I was really hoping there was going to be a concrete reason for his behaviour. What I mean by that is that you'll see a lot of independent scripts – particularly American scripts – with these kind of young men who are a little weird or a little off somehow and they're kind of special but they're going to teach us something. And they're the 'holy fool' character, which I find can be really quite mawkish.
"So when I got a third of the way into the script – like people watching the movie – [I saw] the character say: 'I've got Asperger's syndrome.' And I thought, a. It justified my belief that there was some sort of under-pinning to all this behaviour, b. that's a really intelligent way to write a script, a brave way to do it. And c. Oh shit, I know nothing about this – and I literally knew nothing. I didn't know what Asperger's was – I'd barely heard of it, to be honest with you. So I had to go away and educate myself.
"Starting from a place of total ignorance as I was, naturally the first thing I did was type "Asperger's" into Google. That keeps you busy for a week. Beyond that, there's two stages to any kind of research. You begin by just absorbing as much factual information as you can, and there's a huge amount, and you try to sort out what's useful to you and what's not useful. Once I'd taken on enough of that, then I was able to meet people who knew about it and eventually meet people with Asperger's and so forth."
After finding out what he could about the condition and talking to many people with it, Dancy then faced the challenge of translating that onto the screen.
"I thought of it, to some extent, as the anti-acting role," he said. "Essentially what you're paid to do as an actor is turn up and empathise your way into someone else's boots and, particularly on a film set because you're always running just to catch up and so you have to have well-developed communication skills and, basically, all of that was stripped away from me.
"It was an odd working experience because there was no value in having the kind of conversations you would usually have with another actor. It was okay with Max but with Rose, we couldn't really sit down and talk about 'this scene' and what's really going on because there was that barrier always – and the most important thing to play was the barrier between us."
The barrier for many Asperger's sufferers manifests itself, in several ways, including an inability to look people in the eye when speaking to them - which presented another key challenge for Dancy.
"You feel very odd doing that," he said "We only had 22 days to make the movie and it takes quite a while to feel comfortable doing that. All the things you rely on as an actor, with a camera anyway, it tells a lot just by looking at your face, the idea that you're always going to be essentially distracted in a way, you're never going to be able to be direct is tough. But eventually it began to make sense.
"Initially, I didn't quite know how to do it and Max at one point said, 'You're looking a bit like a blind person.' Because, I guess, you're looking around without intent. But, eventually I like to think as it made more sense for me, it probably became more easy for Rose than difficult. Because presumably the more genuinely confused she was, the more helpful it would be for her performance."
There was certainly no confusing the audience reaction at Sundance, which was a positive one - with the film being sold to Searchlight after just one screening. This came as a surprise to Mayer, who admits he had been warned that it was unlikely anyone would sell anything at the festival this year because of the state of the economy.
He added: "You have that film festival dream thing when an hour of so after the screening, someone says, Searchlight wants to make an offer. Then you get stuck in the Fox condominium until two in the morning because the offer is for today and not for tomorrow because you're going to have another screening tomorrow and other people are going to see it and they don't want to bid against other people."
What's important to the actors, of course, is less the selling of the film, than the winning over of an audience - and of being true to the Asperger's community.
"The truth is," says Dancy "If you screen this movie in front of a big audience of the general public, you are screening it to people with Asperger's or at the very least people who live with people who have Asperger's because it's that common.
"Yes, we have also shown it to people specifically for that reason. And you can imagine that that's basically the only reaction that matters. If everybody else says: "What a lovely, heartfelt movie" and they say: "You've stitched us up, you bastard" then that would be the end of that. But it's been really positive, kind of overwhelming."
And now Dancy has freed himself up this summer in order to promote the film.
"When we went to Sundance, it felt like such an achievement and to be in competition," he said. "I had always thought, not that it wouldn't be successful and succeed but always kept my eyes open to the likelihood that it wouldn't be seen by anyone. That's just the reality when you make a movie like this, so when suddenly after Sundance I knew it was going to have a future but was going to have to fight every step of the way, I thought I would just clear my plate until whenever, until September."
If dedication can fuel success, Adam is sure to be a hit.
Adam is released at selected cinemas across the UK on August 7. To celebrate the release, we're giving away a bundle of Fox Searchlight DVDs in our latest competition.
Share this with others on...