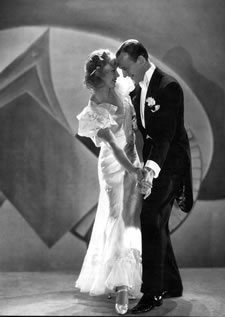 Fred and Ginger in their first film Flying Down To Rio
Usually when we think back to films we've enjoyed, something about the plot will trigger our memory. But with Golden Age musicals, it is probably song-and-dance hits that stay in our head. Our favourite films are identified by songs that captured the emotion of the movie. Numbers that live on into popular consciousness.
With Fred and Ginger, it is also the immaculate dances. Effortless steps. White tie and tails. This is the man about whom ballet legend Mikhail Baryshnikov would later exclaim: "What do dancers think of Fred Astaire? It's no secret. We hate him. He gives us a complex because he's too perfect. His perfection is an absurdity."
Fred and Ginger only made 10 films together. But even after watching them over and over again, it is easy to wonder which ditty went with which film. So here's a recap:
Flying Down To Rio was their first movie together. They are in supporting roles and don't have any exclusive songs together. But the film's showstopper is when they perform The Carioca, sweeping everyone into a Brazilian-inspired frenzy of dancing desire. The routine (with dancing couples touching foreheads) sparked a dance craze across America.
The Gay Divorcee is remembered for Night And Day, retained from the original Cole Porter stage show. Even though it was another number, The Continental, which won an Oscar for Best Song.
In Roberta, their third film together, it's Hammerstein's I Won't Dance that tickles the heartstrings. The romantic Smoke Gets In Your Eyes shows off Rogers' gorgeous back-bends - rather better than her assumed Polish accent.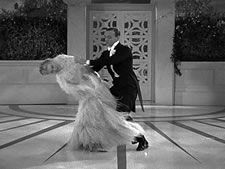 Top Hat - probably their most famous film - has them springing about art deco sets in a recreated Venice and a flurry of superlative songs, by Irving Berlin. Isn't It A Lovely Day To Be Caught In The Rain (danced in the gazebo) stands out, as does Top Hat, White Tie And Tails. And with Cheek To Cheek we think of the gentle intimacy of dance couples everywhere (though Rogers probably thought of her fluffy ostrich dress which caused so many problems to dance in).
Follow The Fleet sees more Irving Berlin numbers with Let's Face The Music And Dance reprised more than once. The flamboyant Let Yourself Go and I'm Putting All My Eggs In One Basket provide hilarious dance routines.
Swing Time introduces some of their loveliest duets, from the enchanting comedy of Pick Yourself Up and A Fine Romance to the glamour (and more lovely dresses!) of The Way You Look Tonight. The climax, with Never Gonna Dance, features one of their best ever routines.
Ballet meets Broadway in Shall We Dance and features two immortal Gershwin songs, Let's Call The Whole Thing Off, in which they don't dance, and They Can't take That Away From Me, in which they do – on roller skates!
Carefree, although penned by Irving Berlin, was perhaps their least successful film and the less-than-memorable songs couldn't save it from making a loss. (It's slightly redeemed by a memorable kiss scene.)
The lavish Story Of Vernon And Irene Castle fared slightly better, featuring many old favourites, including Oh You Beautiful Doll, Way Down Yonder In New Orleans, Little Brown Jug, It's A Long Way To Tipperary and Hello, Hello, Who's Your Lady Friend?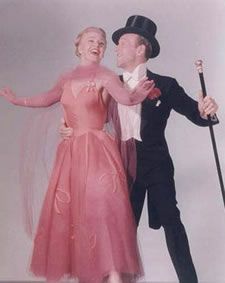 The Barkleys Of Broadway, their last film together, left on a high note, reprising They Can't Take That Away from Me and dancing to it this time round in one of their most effective pieces.
Rogers sang rather less than Astaire, even though she made many more movies than he did in the same period. This was partly due to the time he needed to spend choreographing the routines (often with Hermes Pan). Being the lead also means rather more work for the man dancing than for the woman, so it is maybe only partly accurate to say that she did "everything that he did only backwards and in high heels".
But one thing is clear. They achieved their greatest moments when together. From their very first movie, she provided the perfect common touch to his elegance. Rogers went on to be recognised for her work as a serious actress, and Astaire danced with many accomplished partners, such as Judy Garland (Easter Parade), Cyd Charisse (The Band Wagon), Rita Hayworth (You'll Never Get Rich), and Audrey Hepburn (Funny Face). He also performed with Bing Crosby and Gene Kelly. But it was when Fred and Ginger were together that something magical happened. Something that will echo and haunt the dance floors or years to come.
The Dance:Film Festival opensin Edinburgh on May 21 with Swing Time. You can read our coverage here and view the full schedule of films and events on the official site.
Share this with others on...