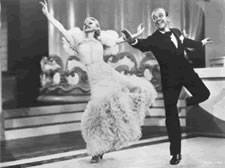 Ginger Rogers and Fred Astaire in 1936 Hollywood classic Swing Time
The second edition of the Dance: Film festival runs from May 21 to 29, opening with Ginger Rogers and Fred Astaire's classic Swing Time.
The programme celebrates dance down the decades from the 1930s to the present day and will be bolstered with a series of talks and a series of dance workshops teaching you everything from 80s jazz to Fred Astaire tap. In addition to the strands detailed below, there are several short film showcases.
View Films by Strand:
Dancefilm Latest Reviews
Dance Film Festival Features