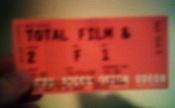 A few weeks ago I received an email offering me the opportunity to go to the Total Film Sky Movies Red Carpet Preview 2008, held at the Bath Odeon, free-of-charge. It sounded like a good evening promising unseen footage, breaking trailers, makings of, and presentations by Guillermo del Toro and Neil Marshall. And there was going to be free goody bag! Needless to say, the geek in me was excited.
My spirits were later dampened by the fact that the event I had tickets for wasn't being held live in Bath, but was merely a satellite event of a big London shindig broadcast at nine Odeon sites around the country. My hopes of being in the presence of Guillermo del Toro were dashed. Still, I thought the evening would prove interesting and I looked forward to seeing all new footage.
When my tickets arrived the day before the big night they were accompanied by a crib sheet for the event: no phones, cameras, or other audio visual recorders were going to be allowed into the event, and bag and body searches were going to be taking place because of the "highly sensitive, exciting material" on display. As I wondered to myself what could be of such importance, my sense of optimism about the night increased.
Deciding that it would be beneficial to have an audio recorder, this intrepid reporter chose to covertly take an MP3 player/recorder into the event – it turned out to be a foolhardy move. Two official looking men stood at the front of the small queue, one searching patrons' bags, the other doing a complete body scan with an electronic detector. I was rumbled. My MP3 player was left in the hands of the Odeon staff, whom I hoped wouldn't look through my music.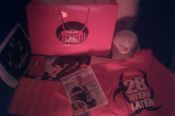 As we entered the auditorium we were greeted by goody bags laid on our chairs, containing a Simpsons Movie baseball cap, a pretty 28 Weeks Later lighter (a neat way of offloading last year's promos, thanks Fox), a 10,000 BC activity sheet, a Sky Movies advert and key ring, fridge magnets, a Wall.E card, a mini promo magazine, and a Total Film pen. The auditorium was the smallest in the cinema, and only two-thirds full - an ominous feeling hit me. After a brief greeting from Ian McKellan, what followed, more or less, was a 75-minute trailer reel with a few brief snippets from Simon Pegg.
So what were the highlights amongst the trailers? So soon after Control comes another film about Joy Division imaginatively called Joy Division. By Grant Gee, the director of the fascinating Radiohead tour documentary Meeting People Is Easy, and featuring interviews with the band and the late Tony Wilson, this should hopefully prove to be a superior insight into the legendary band. This summer's comic book adaptation, Iron Man, is looking like it could be an amusing romp, with Robert Downey Jr. looking more charismatic and funny than your average superhero, whilst The Dark Knight should be an excellent sequel to the enjoyable but exposition-laden Batman Begins. A scene from Michael Haneke's remake of Funny Games proved genuinely creepy, intriguing and shocking, showing two white clothed boys beating a man over some eggs.
When watching over an hour of trailers, each varying in quality, it gets very tiresome the amount of times the word "destiny" is used, leading me to feel a little cynical about this year's big releases. Leave it to Guillermo del Toro to redeem the evening. After providing an affable introduction to Hellboy 2 – which looks to be another highlight of the summer blockbusters – del Toro gave us a guided tour of his sketchbook, which was filled with beautiful illustrated images of fantastical creatures designed for Hellboy 2, including one he amusingly dubbed as "Cathedral Head", for obvious reasons. After being treated to such a special sight, having to sit through the awful trailers for Flashback Of A Fool and What Happens In Vegas seemed somewhat less painful.
Following the trailers, we were invited to a "special" screening of the forthcoming low budget British film The Waiting Room. At this point I should have left the event; I didn't and consequently I had to sit through one of the most disheartening films I have seen in a long time – an interlinked story about three troubled relationships, The Waiting Room is a mess of bad directing, horrible characters, illogical plot, overbearing OST, and gratuitous nude shots of Ralf Little. When the best moment of a film is an accidental laugh, you've got to worry. By the end of the film – a Hallmark moment of schlock and one of dubious morality – I was left wanting to curse at the screen and wondering why The Waiting Room was even put onto the program for this evening.
Leaving the screen, I grabbed a 28 Weeks Later T-shirt from one of the untaken goody bags, feeling like I needed compensation for a lot of this evening. Most of trailers had been online for a few months, there were no Q&As (at least at the Bath event), and where was Neil Marshall? There was a trailer for Doomsday but no other appearance, which is a bit offensive as they're selling tickets to this on the basis of his presentation. The evening was dominated by trailers when there could and should have been genuine insight into this year's upcoming films. The security was heavy handed but I wonder why as there were no big revelations here. I guess I can't complain too much after seeing Guillermo del Toro's sketchbook.
Share this with others on...