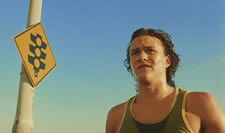 Heath Ledger's debut Two Hands is showing at the Australian Film Festival
In January this year, Heath Ledger was found dead in his New York apartment, shortly after completing work as The Joker in The Dark Knight and halfway through filming Terry Gilliam's The Imaginarium Of Doctor Parnassus. Compounding the tragedy of this loss of a young life was the enormous sense of expectation everyone had had about his career, his extraordinary developing talent. This year's London Australian Film Festival is screening his first feature film, Two Hands, in tribute.
Born on the fourth of April, 1979, in Perth, Australia, Ledger stood out from the very beginning. At the age of ten he was Western Australia's junior chess champion, and it was in that same year that he made his first acting appearance, as Peter Pan, with a local theatre company. He would later explain that, for him, getting a role was the emotionally exhausting part - he never really believed he was good enough - but on stage or in front of a camera, he could just let go.
When he was 17, Ledger and his friend Trevor DiCarlo travelled across the continent to Sydney, arriving with just 69 cents in funds. Ledger got small roles in two films, Clowning Around and Blackrock. Though this didn't make his name it did help him to learn how the business worked, and he went on to enjoy a series of TV roles including a storyline in Home And Away. But it was with Two Hands that he really made his breakthrough. As a teenager hired to smuggle gang money for a small cut, his character found himself in deep trouble when the money went missing, and Ledger established himself both as a capable actor and as a teen heartthrob. This led to Hollywood and 10 Things I Hate About You.
Ledger, however, was dissatisfied with the idea of being a sex symbol, wanting to prove himself on the basis of his ability. "I wasn't going to have fun doing a teen movie again... There's so much I want to discover," he explained. So he took on the part of Mel Gibson's son in The Patriot - not the lead role, but one on which the film depended. His success attracted his first serious notice. He followed it up with a star making performance in A Knight's Tale and then another brief but intense piece of work in Monster's Ball (as another doomed son).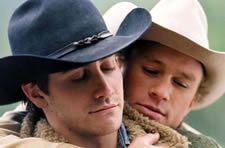 Ledger received an Oscar nomination for his role alongside Jake Gyllenhaal in Brokeback Mountain
It was Ang Lee's epic western
Brokeback Mountain
, in 2005, which secured Ledger's place in the Hollywood firmament. Playing a ranch hand who falls in love with
Jake Gyllenhaal
's rodeo cowboy, he was nominated for an Oscar, a BAFTA and a Golden Globe. He also met the love of his life,
Michelle Williams
, on set. The following year the couple had a daughter, Matilda Rose, with Gyllenhaal acting as godfather. Ledger took a year out from acting to look after her, describing it as one of the happiest times of his life. But in September 2007 he and Williams split up.
When Ledger was cast as The Joker, Batman fans largely reacted with disapproval, still thinking of him as a teen sex symbol rather than a real actor, but his astonishing performance in the trailer turned expectations around, helping to make The Dark Knight one of the most hotly anticipated films of 2008. Ledger himself loved the role, saying that it had "exceeded any expectations I had of what the experience would be like."
Ledger also had ambitions to direct. He helmed several music videos and was working on putting together a film about the singer Nick Drake. But exhaustion was beginning to take its toll on him. He found that the anxiety which had always troubled him was growing worse, and he struggled to sleep. He was prescribed anti-anxiety medication, but taking this in combination with pain killers and sleeping pills proved a fatal combination. On the afternoon of the January 22 he was found dead in his bed.
"I don't plan at all. I don't know what I'm doing tomorrow. I completely live in the now," Ledger said of his approach to life. It was doubtless this intensity of focus which brought so much power to his work, and it has ensured that, despite the brevity of his life and career, he will be remembered for a long time to come.
Share this with others on...