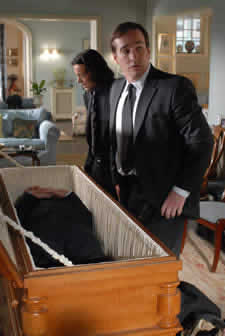 Rupert Graves and Matthew Macfadyen as Robert and Daniel in the film
"I don't think we do think funerals are funny," comments Frank Oz, fresh from winning the grand prize at Locarno Film Festival for his latest film Death At A Funeral. "This is laughing at people trying to hold something down," he continues, before suggesting that the film might easily be rejigged as a wedding with a secret about the bride rather than about the deceased.
That notwithstanding, there is much talk of death at this London press conference, attended by Oz and cast members Rupert Graves (Robert), Kris Marshall (Troy), Daisy Donovan (Martha), Jane Asher (Sandra) and Andy Nyman (Howard) - with screenwriter Dean Craig skulking at the back of the room but still imposing his silent presence much like the late patriarch at the film's centre. The cast share anecdotes about real funerals (which are apparently more boring than the one depicted in the film), declare which songs they want played at their own (despite Nyman insisting "I don't think it's going to happen to me"), and chat a lot about 'corpsing' on set.
The film's final credits roll over footage of each actor erupting into fits of laughter -with the notable exception of a dour looking Peter Vaughan. Oz explains that, unlike everyone else (including the director himself), Vaughan was so professional that he did not crease up for even a single frame of the outtakes. Apparently, however, the corpse also did not corpse. "He was a stuntman," Oz helpfully volunteers.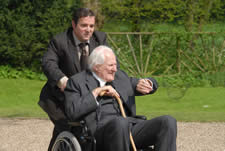 Andy Nyman and Peter Vaughan, whose professionalism denied the outtake editor
The cast certainly got to know one another on-set, having the unusual benefit of two weeks' rehearsal to prepare them for a crowded, chronological shoot in "essentially one room". Marshall, who is currently doing a lot of theatre as what he calls "career offsetting" for his work in television and BT commercials, says the film "was almost like doing a play". It feels like one too, with all of its running about and stagey chaos.
The ensemble also discussed the casting. Oz insists that the casting of Keeley Hawes as the wife of Matthew MacFayden's character had nothing to do with the fact that they are an actual couple. Meanwhile, native Texan Alan Tudyk who, in the rôle of Simon, offers an utterly convincing English accent, was "the very last person to be cast", literally auditioned on the phone by Oz; and Donovan claims that, in her rooftop scenes with a naked Tudyk, "that was very hard. I did actually never look down." It is the sort of double entendre we have come to expect from a good old-fashioned British romp...
Share this with others on...