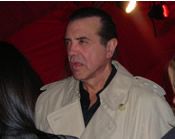 Chazz Palminteri makes an appearance
By the time the opening night red carpet rolled around for the SOS: Short Film Program, the sunshine had been replaced by a steady deluge of almost biblical proportions - although thankfully I was spared a drowning by arriving just before the real rain began. I may have been dry but I was in plenty of pain. Since I'm travelling light I foolishly opted to only bring three pairs of shoes - flip flops, trainers and one set of dress shoes. Since it was cold, the flip flops were out and trainers didn't really seem the thing, dress shoes it was. They're flat after all, so no problem.
They were great for three blocks, by block four, they were rubbing, by block five, my feet had been reduced to bloody rubble. So I was forced to hit the pharmacy for plasters. Ah yes, plasters, there's that language thing again. In the back of my mind I knew that it was going to be difficult, that a brand name would be required, but couldn't for the life of me think of which one. After being greeted with the blankest of looks when asking for "sticking plaster... Elastoplast," I resorted to the sort of charades normally reserved for use in far flung continental destinations. Light dawned: "Oh, Band-Aids" (I'm told, after the event by an American pal that the use of the plural is crucial). Said clerk, by now thinking she was dealing with the terminally stupid, directed me to the enormous array of plasters I had just walked past. Sheesh.
Turns out my stupidity wasn't done for the day. Flustered by this point, I grabbed the nearest box "for fingers and toes" and scampered (or rather hobbled) out. On opening the packet I discovered "for fingers and toes" means "very skinny plasters that won't cover your blister" but with four layered on each heel, I soldiered on.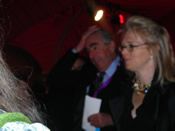 The red carpet area was awash with journalists. I can't remember the last time I saw so many looking so bewildered in one space. There seemed to be about five lists on the go, none of which I was on, so I hunkered up close to some professional looking Americans and tried to blend in. Like show dogs, several were led away by various PRs to different parts of the arena, accompanied by mutterings of "this is the biggest red carpet event we've ever done," and "please, step off my red carpet, ma'am".
The organised chaos was continuing as Christopher Walken strolled in - looking well preserved. He walked past silently, although gave a brief wave as he went. Thereafter, it was a law of diminishing returns. Naturally, many folk seemed to have been put off by the torrential rain - must be murder on the Manolos - so despite the tip sheet including Elvis Costello, Matt Dillon and Jon Bon Jovi, the only other truly famous people I saw were Chazz Palminteri, Martin Scorsese (possibly) and Felicity Huffman.
I think there were several B celebrities, it was hard to say, but the Botox quotient was too high for them to have been anything other than semi-stars. There was one woman, in particular, who looked as though she had asked her plastic surgeon for the "full Jane Fonda".
Seemingly Vice President Al Gore had turned up - though not for red carpet purposes.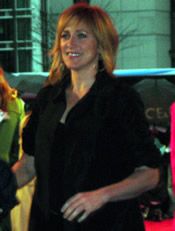 Introducing the films he said: "Art, music, film, dance, poetry - all the arts - have long been our greatest tools to explore the regions of imagination that defy our efforts to think rationally about subjects that our emotions tell us are too painful to contemplate.
"Somehow, we do have to penetrate that shell of denial."
Jon Bon Jovi was also on the inside, and wrapped the films with a three-song set, including Livin' On A Prayer, Here Comes The Sun (oh, the irony of it all) and Leonard Cohen's Hallelujah. Meanwhile, out on the biodegradable carpet - or rather, carefully beside it to avoid the wrath of security - we spent two hours in the company of various versions of Message In A Bottle - which now seems to be on permanent loop in my brain. And so that was that, the only sensible thing to do, seemed to be to grab a beer and a slice of pizza and head for home... keeping the planet in mind, I used public transport.
The films screened (with descriptions courtesy of Tribeca) were:
Chel White, The Wind: A montage of motion controleed time-lapse photography of the earth and weather, set to a poem by Antonio Machado.
Heidi Ewing and Rachel Grady, One LEss Cat: Documentary featuring cyclists in New York.
Malcolm Venville, Global Warming: Using children as subjects for an investigation of contemporary environmental issues. Interviewing them at home and school, asking questions such as: "How long do you think the world will last" and "Why are the ice caps melting".
Matt Mahurin, H20 Uh-Oh: Set in hte near future, one man's journey from a world that is flooded to a world that has no water at all.
Rob Reiner, Spinal Tap: A film update of the parody rock documentary, This Is Spinal Tap.
D-Fuse, De-Forestation: A series of 30 second blipverts which will reveal the rapid change in our environment caused by human exploitation.
Sophie Muller, Sunny Day: A beautiful stylistic film encouraging the people of LA to ditch the tumble dryer and encourage hte use of hte eco-friendly washing line instead.
Marcos Prado, Waste: About the hazards of wasting resources and hte serious implications this has on the environment.
The Foster Brothers, Africa. Speaking With Earth And Sky: Africa is predicted to be the continent most severly affected by global warming and climate change. The indigenous people live in harmony with nature and thus feel the changes profoundly. They are intimately aware of the fragile balance, yet their voices are seldom heard.
Share this with others on...