"Why are you wearing that stupid bunny suit?" is, of course, the question the young hero of
Donnie Darko
asks his imaginary friend, to which the equally reasonable response is: "Why are you wearing that stupid human suit?" Both are good questions, both left without answers, but then, giant rabbits in the movies have always been mysterious - and there are more of them about than you might think.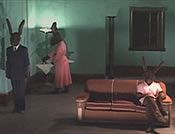 Inland Empire's bunnies pose a puzzle
Most recently, mysterious rabbits have appeared to constitute part of the puzzle in David Lynch's
Inland Empire
. Watched on television by a tearful Polish prostitute, they stand, at the most basic level, for the experience one has when encountering an apparent comedy in which one is the only person not getting the joke - an experience which Lynch's characters often seem to run into in life. In this case, with Laura Dern in the lead, it's worth remembering that she once starred in a film (
Rambling Rose
) in which her character had been raised on a diet of rabbits, to which her physicality and sexual energy were attributed - but Lynch's rabbits don't seem to have a great deal of either, for all that one of them is played by Naomi Watts and affects poses from
Mulholland Drive
. Aside from Inland Empire, they have their own show on YouTube, with several episodes available to watch for free - part of Lynch's campaign to use digital video to bring his work to the masses without having to deal with studios.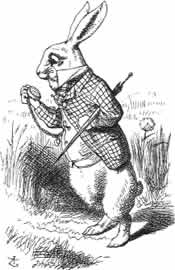 The white rabbit in Alice In Wonderland has become an icon
The rabbit who started it all, of course, was white, and late, and he's been scampering across our screens in one form or another since 1903.
Alice In Wonderland
gave us so much iconic imagery that it's easy to forget the importance of the rabbit, but he turns up again and again as a reference point in other films, from
The Matrix
to
The Last Mimzy
, to
Bill And Ted's Bogus Journey
, in which we encounter not only the rabbit hole but also an Easter Bunny which is the stuff of nightmare. A surreal and heavily symbolic figure, the White Rabbit can be considered as the ancestor of all the other giant cinematic bunnies we've encountered since.
Beside him, the one who set the standard was of course Harvey, the invisible best friend of James Stewart's baffled bachelor Elwood P Dowd. Whilst his family worry that he's losing his mind, Elwood knows that Harvey is real, and that only by following the rabbit's advice can he find happiness. Of course, in the end, it doesn't really matter whether Harvey is real or not - it's the idea of him which lifts Elwood out of the mundane world and gives him access to his own wonderland.
James Stewart's performance opposite Harvey, who was presumably invisible to the actor, is often cited as one of the greatest examples of his craft. A similar effort was required of Bob Hoskins when he acted opposite the eponymous hero of Who Framed Roger Rabbit, creating one of Hollywood's most successful animation/live action crossovers. With its wide appeal to children, film noir fans and mainstream moviegoers, the film easily overcame initial industry concerns about its wayward plot, in which a private detective is hired to help a troubled cartoon character. Intrinsic to this, of course, is Jessica Rabbit, who more closely resembles a different sort of bunny girl, but then, Bugs Bunny's cross dressing aside, rabbit antics in the movies are a traditionally male preserve.
'Why are you wearing that stupid bunny suit?'
Whether he's a befuddled lawyer continually checking his watch or Iggy Pop sweeping Any Locane off her feet in
Cry-Baby
, the giant rabbit is a character who always makes his mark, and it would appear that he's here to stay. He has travelled through time in the history of film much as he does in Donnie Darko, bringing us face to face with the paradox of our own existence. He is a natural part of the evolution of film, and it is perhaps time we started asking ourselves not what he's doing there, but what we are.
Share this with others on...