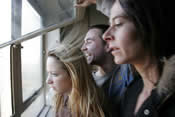 Red Road is showing in the Spectrum section
With just over a month to go until I once again pull on my hiking boots, distinctly unattractive coat and seven layers of sweaters, excitement at the thought of freezing my socks off at Sundance is starting to build.
While Park City, Utah, high in the hills above Salt Lake City, may lack the sun, sea and sand of Cannes, it has star quality in spades and, more importantly, is still a champion of independent film. This is one of the few places in the world where despite the creeping commercialisation of even the indie section of film, thanks to most major studios now having at least a toe in the water of counter-culture filmmaking, new voices can still be heard and journalists genuinely have the opportunity to speak to the stars of tomorrow.
Slogging your way up the town's Main Street, with your breath billowing in plumes and the scrunch of snow beneath your feet the day before things kick off, it's hard to believe that the blizzard of publicity is about to hit town. But despite the drifts of journalists and (reportedly much to Sundance founder Robert Redford's displeasure) party animals, there is still gold to be found in them thar hills.
Commercial successes from last year include Little Miss Sunshine, the farcical family road trip with a beauty pageant twist, which went on to spark a huge bidding war. Other 'winners' included Jason Reitman's Thank You For Smoking and Sam Shephard starrer Don't Come Knocking.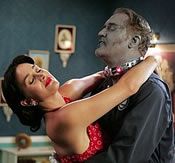 But it is the fringe players, many of which go on to be shown at other festivals across the globe, that are arguably more important. While Sundance may not have quite escaped the claws of commercialism, it gets ten out of ten for effort and for commitment to trying something new. A past champion of documentary (including Super Size Me), the institute has now set its sights on short film and recently announced that it has commissioned three films for mobile phones, including one by Little Miss Sunshine directors Valerie Ferris and Jonathan Dayton.
At 2007's festival – from January 18-28 - 122 feature films have been selected including 82 world premieres, 24 North American premieres and 10 US premieres, representing 25 countries with nearly 60 first or second-time feature filmmakers.
Sundance Film Festival director Geoffrey Gilmore said: "We are witnessing a broadening of the traditional independent arena. In this year's Festival there is a breadth of subject matter, vision and innovative storytelling that is transforming the old idea of the American indie film.
"This year's American Competition reflects a newfound awareness and self-expression that results in an engagement by the work that is both political and personal, a collective voice fueled by a steadfast optimism and hope for the future."
The political and personal will doubtless be firmly in evidence in the documentary segment of the festival – which this year comprises 16 competition films – and Sundance has pushed documentary to the fore by selecting Chicago 10 as the opening night movie.
There are 64 films in competition this year, with 16 in each of four categories, Independent Film (US made), Documentary (US), World Independent and World Documentary.
In addition to the competition films, Sundance has several other strings to its bow. Its Premieres strand aims to showcase the best from established directors and new talent, and this year includes work from British directors Garth Jennings (Son Of Rambow) and Tom Hooper, whose made-for-Channel 4 drama Longford will be screened. The section also sees Antonio Banderas take the helm for El Camino De Los Ingleses (Summer Rain), while Gwyneth's brother Jake Paltrow ventures from TV into film with his debut feature The Good Night, boasting a heavy-hitting cast including Danny DeVito and Penelope Cruz.
Meanwhile, the Spectrum section - a tribute to the "abundance of compelling new voices and the creative spirit in independent filmmaking" - comprises 24 films, including Luc Besson's Angel-A, which has been and gone at the UK box office, and excellent Glasgow thriller Red Road – which has been cleaning up at competitions round Europe since showing at Cannes. It's not just the Euro and US, show, though, with the Philippines (Tuli – about a girl in a remote village who rejects an arranged marriage) and Japan (Bugmaster – about a mystical doctor who cures supernatural ailments) also represented.
Sundance continues its commitment to experimental film through its New Frontiers section, this year including a host of shorts and five features, most notable of which is probably that by Christopher Boe (Allegro, Reconstruction), who will doubtless bring his inimitable brand of cross-genre mayhem to his latest film Offscreen. Anthony Hopkins latest, Slipstream – his first foray into writing as well as directing - also holds promise.
Audience pleasers are also present as part of the Park City At Midnight strand. The Blair Witch Project and Saw were previous inclusions and this year sees Billy Connolly take on the role of a rotting zombie in Fido (pictured above left), while Crispin Glover – whose previous offering What Is It? provoked outrage and bafflement in equal measure – returns with It's Fine, Everything Is Fine! This is apparently about "A man with a severe case of cerebral palsy, Steven C. Stuart's naïve, fantastical, psychosexual retelling of his point of view of life involving many women."
In addition, 12 finalists (three European, three Japanese, three from the US and three from Latin America) will compete for the NHK (Japan Broadcasting Corporation) awards. A winner from each region will be announced during the festival and they'll receive funding for their project.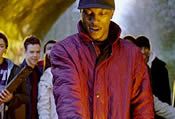 If all that isn't enough, there's also a programme of 71 films from 19 countries, including recent Bristol Encounters winner Cubs (pictured right).
Director of programming John Cooper said: "At Sundance we work hard not only to find the best-made shorts possible, but we continue to explore ways to bring them well-deserved attention and higher profiles.
"We facilitate this visibility through screenings during the 10 days of the Festival in Park City and more broadly through the Festival website (www.sundance.org), where we stream short films free of charge and are building a worldwide audience for this amazing work."
With all that meaty celluloid goodness on offer, Sundance promises to be cool as well as cold.
Share this with others on...