The House of Sand - "an epic piece" - which won the odd 2006 Alfred P. Sloan Prize
The last full day of the festival and the snow was falling thick and fast. After the disappointment of Moonshine last night, I settled down to, thankfully, two pretty good movies. The first, House Of Sand, has come through the Sundance award funding process over the last few years and the result was pretty good. Set in the desert of Brazil it is an epic piece, tracking a mother and daughter as they come to terms with living in isolation over decades. The concept of being trapped and claustrophobic in wide open spaces is a strong one and the central performances of Fernanda Montenegro and Fernanda Torres, whose roles shift like the sands of the desert, as the film progresses, are memorable.
Next up was A Little Trip To Heaven. Filmed by Icelandic director Baltasar Kormakur, it stars Forrest Whitaker as Halt, a mild-mannered insurance investigator, despatched to check out the veracity of a million dollar life insurance claim. Another accomplished noir movie to join the others I have seen, this is as much about emotional attachment and moral ambiguity as it is about possible fraud. Whitaker puts in a measured performance, as a man who suddenly finds he is more than "just doing his job" and the beautifully shot desolate landscapes of Minnesota add to the rising tensions.
Final films watched, it was time to head up to the Headquarters one last time. It was like a ghost town compared to the last couple of weeks, with many of the filmmakers and journalists already hitting the road, encouraged, no doubt, by the snow which was still tumbling down.
I killed time wandering around Park City, bits of which are now in the process of being dismantled, before heading over to The Racquet Club for the awards ceremonies.
In the course of the last week I have seen 22 films, talked to numerous directors and become addicted to teriyaki. All in all, I'd say the standard has been well above average. The noir films have been particularly strong, from the slick, fast-talking Lucky Number Slevin to the atmospheric and tense El Aura and the gritty and stylish 13 (Tzameti). The epic stories, too, such as The House Of Sand and the beautifully shot Journey From The Fall, have been gems. Where films disappoint, it is usually because they failed to meet their genre specifics. Moonshine had a horror bypass and Cargo just didn't thrill like it should.
There has been innovation and imagination aplenty, with a trend to mix animation with action - Allegro and The Science Of Sleep amongst others.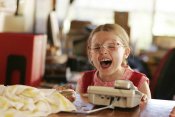 My favourite festival movies were El Aura and Journey From The Fall, although many of the others deserve a honourable mention. Some have already found distributors - beauty queen movie Little Miss Sunshine, picture left, apparently sold for around $10 million and The Night Listener and documentary Wordplay are among others, which have secured a deal. The Descent has also secured US distribution, though apparently with a slightly curtailed ending. Doubtless many more will follow. While perhaps not a golden year for independent film, it looks set to at least be a silver one.
I sat in the "overflow" room for the awards. Tucking into a gratis pretzel and trying to resist the urge to slap the incredibly noisy gaggle of people behind me, I settled down to watch the prize giving on a bank of big screens in the centre of the room.
Like last year, I seem to have avoided many of the prizewinners, but the awards are such a small part of the festival as a whole that I don't think it matters dreadfully.
They are:
Grand Jury Prize: Documentary - God Grew Tired Of Us. Described as "sad, funny and deeply compassionate," here's the programme note premise: "In the late 1980s 27,000 Sudanese lost boys marched barefoot over miles of barren desert seeking safe haven from the brutal civil war in their homeland. Christopher Quinn's film chronicles the experiences of three of these boys who seek refuge in the US as they adjust to their new world." This also won the Audience Award for documentary.
Grand Jury Prize Dramatic - Quinceanera. Another I didn't see, this also picked up the Audience Award for dramatic film. It is the story of "disaffected Latino teenagers who come of age in the gentrifying community of Echo Park, Los Angeles," This one had some British interest, too, in the form of Richard Glatzer, who wrote and directed it, alongside Wash Westmoreland. On accepting the award they said they "wrote it in three weeks and shot it in three weeks."
World Cinema Jury Prize: Documentary - In The Pit. A Mexican doc, directed by Jan Carlos Rulfo, about the lives of workers building a second deck to Mexico City's Periferico freeway - their hopes, dreams and struggle for survival. The prize was picked up by three very giddy filmmakers.
World Cinema Jury Prize: Dramatic - 13 (Tzameti). This film is certainly impressively shot by Gela Bablulani. A dark noir about a sinister underworld gambling network, it combines a taut story with a unique style.
World Cinema Audience Award: Documentary - De Nadie (directed by Tin Dirdamal). One of two documentaries focussing on Mexican migration to the US, this tells the story of Maria, a Central American immigrant, who takes on the 1300 mile journey through Mexico to the States.
World Cinema Audience Award: Dramatic - No.2 (written and directed by Toa Fraser). Another I didn't see but apparently, "Nanna Maria's family has forgotten how to party. She's going to change all that."
The 32 American films in the competition are also eligible for other awards...
The Directing Award went to James Longley for Iraq In Fragments. He also snagged the Excellence in Cinematography Award and the editing team of himself, Billy McMillin and Fiona Otway won the excellence in Documentary Film Editing award and were "utterly jazzed" to receive it.
The Waldo Salt Screenwriting Award went to Hilary Brougher for Stephanie Daley, a drama starring Tilda Swinton.
The documentary jury also handed out a Special Jury Prize to American Blackout, about the disenfranchisement of black voters, and TV Junkie, the personal document of one man's life.
The dramatic jury gave special prizes for Best Ensemble Performance to A Guide To Recognizing Your Saints by Dito Montiel and Special Jury Prizes for Independent Vision to In Between Days, directed by So Yong Ki.
In the World Cinema category, Special Jury Prizes went to documentaries Into Great Silence, a portrait of the Grande Chartreuse Monastery in France, written and directed by Philip Groening, and Dear Pyongyang, a personal investigation into loyalty and resistance to the North Korean cause.
In the dramatic strand a prize also went to Eve And The Fire Horse, written and directed by Julia Kwan, for its "grace, irony and wit."
The Jury Prize in Short Filmmaking was a tie between Bugcrush, by Carter Smith, which tells the tale of a high school loner's fascination with a dangerously seductive newcomer; and animation The Wraith Of Cobble Hill, by Adam Parrish King.
Honourable Mentions in Short Filmmaking went to Before Dawn (Hungary), directed by Balint Kenyeres, Preacher With An Unknown God, directed by Rob VanAlkemade and Irish offering Undressing My Mother, directed with some panache by Ken Wardrop.
The Sundance/NHK International Filmmakers Award was created "to honour and support emerging filmmakers with their next screenplays - one each from the US, Europe, Asia and Latin America - who possess the originality, talent and vision to be celebrated as we look to the future of international cinema." The House Of Sand came up through this route and this year's winning filmmakers and projects are The Spring Ritual, by Patrice Toy (Europe), Lake Tahohle, by Fernando Eimbcke (Latin America), Don't Let Me Drown, by Cruz Angeles (US) and The Clone Returns To The Homeland, by Kanji Nakajima (Japan).
The film that received the 2006 Alfred P. Sloan Prize, which is an odd one, "designed to increase the visibility of outstanding independent films on science and technology and to showcase the work of emerging filmmakers tackling compelling topics in science," went to The House Of Sand. This is an odd choice, since it contains only a brief segment involving scientists, although I am sure director Andrucha Waddington and writer Elena Soarez will find something useful to do with the $20,000 cash prize.
The awards ceremony was followed by a bash, which few filmmakers attended, possibly due to the awful weather- around four inches of snow today.
And that's the end of another festival. I hope to be back next year. Hope you are, too.
Read more diaries and coverage of the Sundance Film Festival.
Share this with others on...