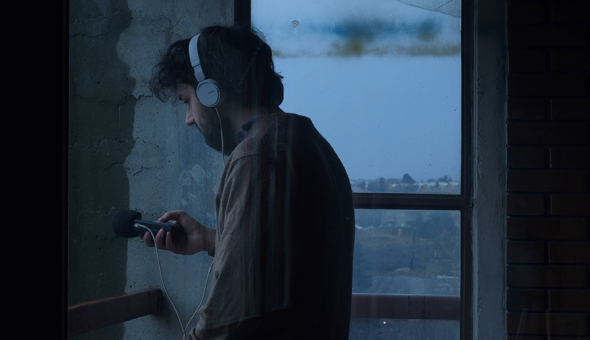 Rampart took home the top prize in the European Debut Competition
Photo: Courtesy of Vilnius Film Festival
What should have been an evening of filmmaking celebration at the Vilnius Film Festival yesterday began on a sombre note as the awards were overshadowed by the news that Lithuanian director Mantas Kvedaravičius had been killed in Mariupol in Ukraine.
The 45-year-old had previously made conflict-zone film Mariupolis about the city. The Ukrainian Defence Ministry said: "While (he was) trying to leave Mariupol, Russian occupiers killed Lithuanian director Mantas Kvedaravicius."
Vilnius Film Festival - which has kept its thoughts with Ukraine throughout this year's edition - began with a minute's silence in Kvedaravičius' honour.
A minute's silence in memory of Mantas Kvedaravičius
Photo: Courtesy of Vilnius Film Festival
Festival director Algirdas Ramaška said: "We lost a director who did a heroic job - documenting the atrocities of the war. It's hard to type words at this moment. Mantas himself did not like to talk. Therefore, I invite everyone to observe the minute of silence in honor of the deceased M Kvedaravičius and the people who fought for the freedom of Ukraine."
He added: "Mantas dedicated his work to the areas of conflict, the reality of war and the humanity that shines in that darkness. His cinema was and will be extremely important not only today, "
Turning to the European Debut competition, Serbian director Marko Grba Singh's Rampart - about a man who returns to his childhood home of Belgrade - was named best film. Helena Girón and Samuel M Delgado took home the best director award for historic drama They Carry Death. The acting awards went to Giedrius Kiela for Pilgrims and  Marina Redžepović for The Staffroom.
The FIPRESCI award went to Kornél Mundruczó for Evolution, while the audience award was won by The Worst Person In The World.
The short film competition was won by Impossible Figures And Other Stories I, with  Swiss director Jela Hasler picking up a special mention  for her subway film On Solid Ground.
Share this with others on...