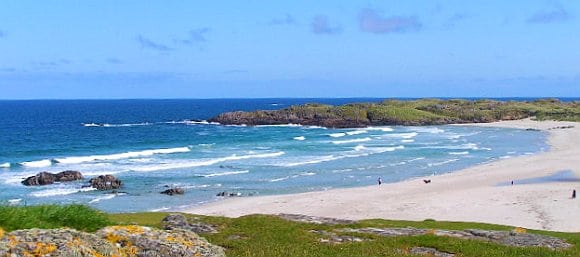 It's based on the tiny Hebridean island of Tiree, but the Sea Change Film Festival will be available to viewers right across the UK, it was announced this week. The festival will undertake a digital tour and, after pandemic restrictions are lifted, will take its programme of films celebrating female talent to cinemas.
The festival will open on 7 March with a free online screening of Philippa Lowthorpe's Misbehaviour, which depicts a feminist protest against the 1970 Miss World beauty pageant and stars Keira Knightley, Gugu Mbatha-Raw, Jessie Buckley, Keeley Hawes and Phyllis Logan. The director will participate in a Q&A after the screening and audience members are encouraged to get into the spirit of the thing by creating their own cocktails.
The main part of the festival focuses on short films which promote female talent. In partnership with Feminista 2021, it showcases the real life stories of pioneering women and girls from across the world, with titles including Wood On Water (about a canoe rip through the Canadian wilderness) and OK Chlöe (about New Zealand's youngest MP). Access is free via Screen Argyll and there will also be a development lab on imposter syndrome to help women feel more confident about their abilities.
"We love the shared experience of cinema and can't wait to bring you these films back on the big screen, until then we are thrilled to be working with a fantastic group of people to bring you a taste of the tour online," said festival director Jen Skinner.
Share this with others on...