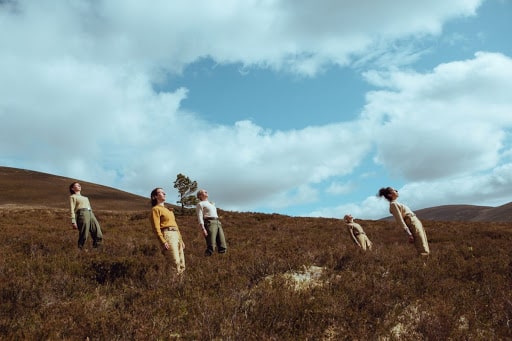 The Earth Must See itself is one of the first pair of films screening
The
Glasgow Short Film Festival
, which announced it was postponing its 13th edition last week, has rescheduled dates for an online programme.
The new festival dates are Wednesday 19 to Sunday 23 August and organisers hope as much as possible of the original festival will be available online.
From today the festival will also be posting two films a day on the festival website glasgowshort.org, with each making thier online premiere. Captions for D/deaf and hard of hearing viewers will be available on all the films.
Introducing the first pair of films, GSFF co-director Sanne Jehoul said:
"How The Earth Must See Itself (A Thirling), by Lucy Cash and Simone Kenyon, produced by National Theatre of Scotland and Scottish Sculpture Workshop, is drawn from the fourth programme in our Scottish Competition: We Are Guided. Inspired by Nan Shepherd's lyrical landmark of nature writing, The Living Mountain, it's a poetic work set in the Scottish Cairngorms, accompanied by a soundtrack by Hanna Tuulikki.
"Sandra Isacsson and Caroline Wallén's Maneater (Sweden) is plucked from our late night For Shorts and Giggles programme. In a funny and delightfully perverse commentary on the male gaze, the two female directors instruct a group of middle-aged men to eat bananas and follow some questionable directions to see how far they'll push themselves.
GSFF Director Matt Lloyd said: "We'd like to take this opportunity to thank everyone who supported us in our decision to postpone the festival. Guests, partners, suppliers and audiences have been overwhelmingly generous and understanding, easing the pain of what has been a difficult few days, for us and many other organisations and individuals experiencing the same challenge. Please stay safe during this extraordinary period, and take care of one another."
Share this with others on...