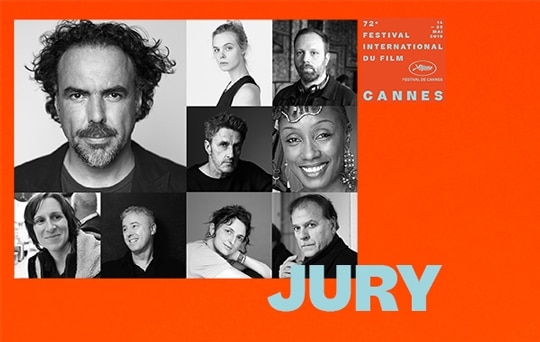 This year's Cannes Film Festival jury
Photo: Brigitte Lacombe, Emma Stone, RR, David Godlis, Fabio Lovino and Patrick Kovarik / AFP
The final line-up of the Cannes Film Festival jury under the presidency of Mexican film-maker Alejandro Gonzalez Iñárritu who together will deliberate on the coveted Palme d'Or among other Competition prizes, has just been revealed and will comprise four women and four men from four continents and representing seven nationalities.
With a few official selection titles still to be announced the female side of the jury is made of American actress Elle Fanning; the actress and director from Burkina Faso Maimouna N'Diaye; director, screenwriter and editor Kelly Reichardt from the United States; and the Italian director and screenwriter Alice Rohrwacher whose Happy As Lazarro won the screenplay prize last year.
The men on the jury are 120 BPM (Beats Per Minute) director Robin Campillo, also a screenwriter and editor; from Greece, Yorgos Lanthimos who made The Lobster and is also a screenwriter and producer; director and screenwriter Pawel Pawlikowski who received the best director award at Cannes in 2018 for Cold War, and French author of graphic novels and director Enki Bilal.
The Jury are scheduled to give the results of their deliberations on 25 May during the Festival's closing ceremony.
Share this with others on...