Michel Legrand
Photo: UniFrance
The celebrated composer, pianist and singer Michel Legrand who wrote the unforgettable scores for Jacques Demy's Umbrellas Of Cherbourg and Young Girls Of Rochefort as well as such Hollywood hits as The Windmills Of Your Mind for The Thomas Crown Affair, and scores for Summer Of 42 and Barbara Streisand's Yentl, died in Paris earlier today at the age of 86.
His Press attaché issued a release to say: ""It is with great sadness that we announce the passing of our friend and artist Michel Legrand, who left us peacefully this Saturday 26 January. He changed the meaning of music in films with his sense of rhythm and his absolute passion for life."
Michel Legrand
Photo: UniFrance
The three time Oscar winner (for Thomas Crown, Summer Of 42 and Yentl) was born on 24 February, 1932 and came from a family of artistes. His father Raymond also was a composer for cinema and band leader and was responsible for original scores for films by Marcel Pagnol, Henri Verneuil and Richard Pottier. His mother Marcelle (Der Mikaëlian) was the sister of composer Jacques Hélian, and Legrand's elder sister Christiane, who died in 2011, carved out an illustrious career as a singer. He was a prodigy, entering the Paris Conservatory at the age of 11 where he emerged at the top of his year.
Legrand became an aficionado of jazz after attending a concert given by Dizzy Gillespie in 1947. He studied music under the direction of the legendary Nadia Boulanger. During the Fifties he introduced jazz into the French chanson tradition and recorded the album I Love Paris which has sold more than eight million copies. Legrand frequently recorded albums with some of the American greats of the period and accompanied them in live concerts as well as serving as arranger and conductor for the likes of Maurice Chevalier and Edith Piaf.
During the 1960s he began composing film scores for the likes of Henri Verneuil, Henri Decoin and Pierre Chenal as well as beginning to work with such New Wave directors as Jean-Luc Godard (Une Femme Est Une Femme, Vivre Sa Vie and Bande À Part) as well as Agnès Varda on Cléo De 5 À 7). It was during this period he began is fruitful relationship with Jacques Demy on Lola (1960), La Baie Des Anges (1963), Les Parapluies De Cherbourg (1964), Les Demoiselles De Rochefort (1966), Peau D'Âne (1970), L'Evénement Le Plus Important Depuis Que L'Homme A Marché Sur La Lune (1973), Lady Oscar (1978), Parking (1985) and Trois Places Pour Le 26 (1988).
He collaborated with Joseph Losey on Eva in 1962 and William Klein on Who Are You Polly Maggoo? in 1966, just before he was courted by Hollywood after his memorable music for The Thomas Crown Affair in 1968. The score included the hit The Windmills Of Your Mind which won an Oscar for Best Original Song. Shortly thereafter, he received Oscars for Robert Mulligan's Summer Of 42 (in 1971) and Yentl by his friend Streisand (in 1983).
Among his tally of awards were five Grammy accolades (and 27 nominations) in addition to a BAFTA and a Golden Globe. He was inducted into the Songwriters' Hall of Fame in 1990.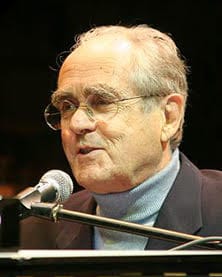 Michel Legrand
Photo: UniFrance
He worked with such legends as Sarah Vaughan, Ella Fitzgerald, Jessye Norman, Lena Horne and Kiri Te Kanawa, as well as Piaf, Charles Trenet, Henri Salvador, Yves Montand, Mireille Mathieu, Nana Mouskouri, and Claude Nougaro.
Other directors for whom he provided scores included André de Toth, Richard Brooks, Jean-Paul Rappeneau, Sydney Pollack, Antatole Litvak, Clint Eastwood, John Frankenheimer, Richard Lester, Louis Malle, Andrzej Wajda, Blake Edwards, Claude Lelouch, Elie Chouraqui, Paul Mazursky and Robert Altman.
Most recently he wrote the music for two films by Xavier Beauvois, The Guardians (Les Gardiennes) and The Price Of Fame (La Rançon De La Gloire), as well as The Other Side Of the Wind, the long-delayed final feature from the legendary filmmaker Orson Welles.
The film world has been quick to pay tribute to Legrand who received career accolades in such festivals as Locarno, Palm Springs and Telluride. Serge Toubiana, the president of Unifrance, wrote on Facebook that Legrand was an immense talent known all over the world. Without Legrand "the world will be less melodious, musical and joyful."
Agnès Varda, who was married to Demy, said she was around when they first met in 1960. "They shared a unique artistic adventure," she said, recalling how their children played together as their fathers worked.
Legrand's stature earned him an accolade from French President Emmanuel Macron who expressed his sympathy to the composer's wife (actress Macha Meril) and children. He described him as "an indefatigable genius. … His unique tunes that run through our heads and are hummed in the streets have become like the soundtracks of our lives."
He has explained his musical fascination thus: ""Ever since I was a boy, my ambition has been to live completely surrounded by music. My dream is not to miss out on anything. That's why I've never settled on one musical discipline. I love playing, conducting, singing and writing, and in all styles. So I turn my hand to everything — not just a bit of everything. Quite the opposite. I do all these activities at once, seriously, sincerely and with deep commitment."
Share this with others on...