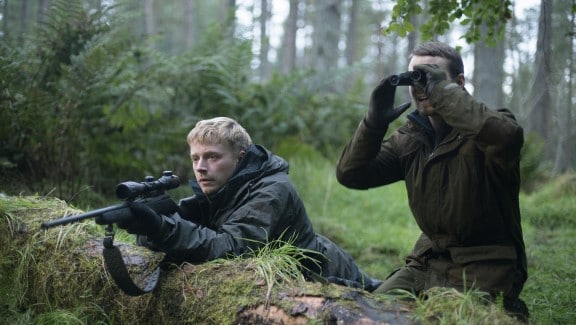 Matt Palmer's tale of a hunting trip gone awry, Calibre, has won the prestigious Michael Powell Award at this year's Edinburgh International Film Festival, it was announced today. The jury, which consisted of Ana Ularu, Jason Connery and Iain de Caestecker, described it as "Beautifully shot, technically accomplished, with a fantastic ensemble performance, director and screenwriter."
"We're so honoured for Calibre to win this prestigious award, particularly considering the incredible list of previous winners. We've been completely thrilled by the amazing response from Edinburgh International Film Festival audiences and had a fantastic experience at the Festival," said Powell, noting that the film is available on Netflix from today.
Cyril Shäublin's Those Who Are Fine won Best International Feature, with the jury saying "We agreed that the film was a playful and engaging commentary on contemporary society; elements and ideas were unified with a minimalist elegance by the director and cinematographer." There was a special mention for Supa Modo.
This year's award for Best Performance in a British Feature Film was split between Liv Hill and Sinead Matthews for their work on Jellyfish. Both stars thanked the festival and said that it meant more to them because they were sharing it.
Music biopic Whitney won Best Documentary and Nevada won Best Short Film, while the award for a Work in Progress, which is accompanied by £2,500 to help with completion, went to Martyn Robertson for Riding The Wave.
This year's Best of the Fest selection consists of Incredibles 2, Ideal Home, C'est La Vie!, Flammable Children (Swinging Safari), Storm In My Heart, Terminal, Dead In A Week (Or Your Money Back) and The Heiresses, all of which will receive additional public screenings on 1 July
Share this with others on...