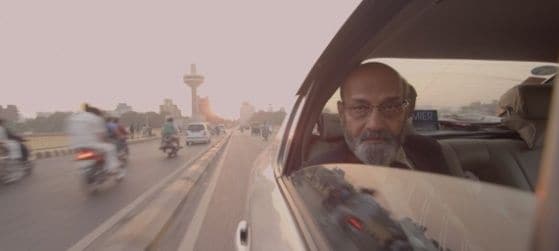 Mango Dreams will open the festival
The Asian Film Festival returns to Edinburgh Filmhouse for a second edition next week. Running from March 24 to 26, the aims to showcase the best in contemporary filmmaking from the continent.
The festival will open with a gala screening of John Upchurch's Mango Dreams, a road movie which sees Muslim rickshaw driver Salim, a Muslim rickshaw driver take an elderly Hindu doctor, an escapee of the British partition of India, for a final trip back to his former home in Pakistan. As the pair share their haunting past with each other, they forge a warm-hearted friendship.
Glasgow Film Festival Audience Award winner [/film]Lipstick Under My Burkha[/film] will also be among the highlights. The film, which also won Oxfam's inaugural Best Film on Gender Equality Award, is currently being blocked from general release in India after the Central Board of Film Certification refused to certify the film, for reasons including the fact it is "lady oriented", contains "sexual scenes" and is "audio pornography".
The filmmakers continue to fight the ban, tweeting a photo of the CBFC ruling with the statement: "Thank you for all your support for #LipstickUnderMyBurkha against this ridiculous regressiveness. We won't be silenced."
The domestic problems aren't halting the international progress of the film, however, which has also won the CinemaAsia Audience Award and is set to open New York's Indian Film Festival.
The full line-up is below, with many of the screenings featuring a Q&A:
Mango Dreams - A rickshaw driver and his passenger bond on a road trip.
Mantostaan - A dark historical satire on the 1947 India-Pakistan partition, based on the controversial short stories of critically-acclaimed Urdu writer Saadat Hassan Manto.
Utopia - Afghanistan's official Oscar entry follows an Afghan woman as she travels to the U.K. for artificial insemination. Complications arise when a British student at the infertility clinic decides to swap the donor semen for his own and the woman finds out that he is from a family with a long history of military conflict in her homeland.
The Threshold - The day in the life of an older couple, living in the picturesque Himalayas, whose own relationship is tested in the aftermath of their son's wedding
Lipstick Under My Burkha - Four women search for freedom in small town India.
For more details of guests attending and to book tickets, visit the official site.
Share this with others on...