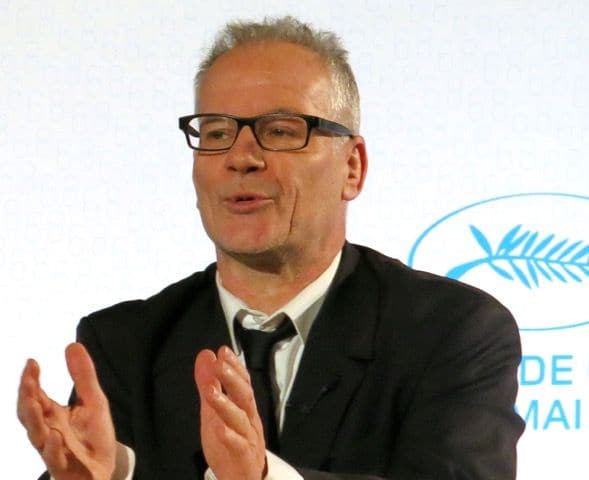 Thierry Fremaux, the Cannes Film Festival's artistic director, unveils his programme in Paris today.
Photo: Richard Mowe
The suspense is over – well almost. Today (16 April) the Cannes Film Festival's artistic director Thierry Fremaux revealed most of his official selection including the return of Woody Allen and new films by Todd Haynes, Nanni Moretti, Hou Hsiao-hsien, Gus Van Sant and Denis Villeneuve, as well as a strong Gallic contingent headed by Jacques Audiard – but a few gaps remain to be filled in the coming weeks before the start of the 68th edition on 13 May.
Flanked by his new president Pierre Lescure at a media gathering in one of the most prestigious cinemas left on the Champs d'Elysées, the UGC Normandie, Fremaux defended his choices and those of his three selection committees, which paid attention to geographic, artistic and cinematic considerations as well as supporting talents nurtured by Cannes in the past. Only 17 films in the official competition were announced and 14 for the sidebar Un Certain Regard.
Gus Van Sant's The Sea Of Trees
With just two American titles, by Haynes and Van Sant, in the running for the Palme d'Or, and an almost non-existent UK contingent (Fremaux could only cite Macbeth, an adaptation by Australian Justin Kurzel (The Snowtown Murders) with Michael Fassbender and Marion Cottillard) the main focus for the jury headed by the Coen Brothers is likely to be Italy with three titles, France with four and a diverse Asian presence.
There will be plenty of stars around for the red carpet, not least Cate Blanchett, who features in Haynes's Carol, a 1950s lesbian love story. Van Sant's The Sea Of Trees stars Matthew McConaughey and Ken Watanabe and deals with suicide.
From Canada, Denis Villeneuve has assembled a stellar cast for his Mexican drug-cartel drama Sicario, with Emily Blunt, Benicio Del Toro and Josh Brolin; while Greek director Yorgos Lanthimos unites Colin Farrell and Rachel Weisz for a spot of sci-fi in The Lobster. Norwegian director Joachim Trier boasts Isabelle Huppert, Gabriel Byrne and Jesse Eisenberg in Louder Than Bombs, a family drama.
Allen, despite entreaties by Fremaux, declined to be part of the Competition but has agreed for his new work Irrational Man to be screened, bringing his cast of Joaquin Phoenix and Emma Stone to the Croisette. There will also be razzamatazz in connection with the already announced showings of Mad Max: Fury Road with Tom Hardy and Charlize Theron, Pixar's cartoon extravaganza Inside Out and Mark Osborne's animated reworking of Saint Exupery's The Little Prince with the voices of Benicio Del Toro, Marion Cotillard and Riley Osborne.
Joaquin Phoenix and Emma Stone in Irrational Man
Asif Kapadia's new documentary, Amy, about the rock star Amy Winehouse, finds a midnight slot.
As if to demonstrate that diversity is the name of the game Hou Hsiao-hsien's The Assassin is said to be a Tang Dynasty martial arts epic – and Fremaux was particularly pleased to welcome the director back after eight years when his Flight Of The Red Balloon opened Un Certain Regard.
Matteo Garrone who has won Cannes Grand Prix winner for Gomorrah (2008) and Reality (2012), delivers an English-language horror/fantasy featuring Salma Hayek, Vincent Cassel and John C. Reilly, while his compatriot Paolo Sorrentino (The Great Beauty) also works in English for Youth, an ironic treatise about old age with Michael Caine as a retired orchestra conductor.
Although many titles touted as in the running appear to have dropped for various reasons (among them Terence Davies's Sunset Song) Fremaux was reluctant to rule anything out at this stage. "There is always hope," he said diplomatically.
Opening Film
Emmanuelle Bercot - Standing Tall / La Tête Haute - Out of Competition
Competition
Jacques Audiard - Dheepan
Stéphane Brizé - A Simple Man / La Loi Du Marché
Valérie Donzelli - Marguerite And Julien
Matteo Garrone - The Tale Of Tales / Il Racconto Dei Racconti
Todd Haynes - Carol
Hou Hsiao Hsien - The Assassin / Nie Yin Yiang
Jia Zhang-Ke - Mountains May Depart / Shan He Gu Ren
Kore-eda Hirokazu - Our Little Sister / Umimachi Diary
Justin Kurzel - Macbeth
Yorgos Lanthimos - The Lobster
Maïwenn - My King / Mon roi
Nanni Moretti - Mia Madre
László Nemes - Son of Saul / Saul Fia
Paolo Sorrentino - Youth
Joachim Trier - Louder Than Bombs
Gus Van Sant - The Sea Of Trees
Denis Villeneuve - Sicario
Un Certain Regard
Neeraj Ghaywan - Masaan
Grímur Hákonarson - Rams / Hrútar
Kurosawa Kiyoshi - Journey To The Shore / Kishibe No Tabi
Laurent Larivière - I am A Soldier / Je Suis Un Soldat
Dalibor Matanic - The High Sun / Zvizdan
Roberto Minervini - The Other Side
Radu Muntean - One Floor Below / Un Etaj Mai Jos
Oh Seung-Uk - The Shameless / Mu-roe-han
David Pablos - The Chosen Ones / Las Elegidas
Ida Panahandeh - Nahid
Corneliu Porumboiu - The Treasure / Comoara
Gurvinder Singh - The Fourth Direction / Chauthi Koot
Shin Suwon - Madonna
Alice Winocour - Maryland
Out of Competition
Woody Allen - Irrational Man
Pete Docter and Ronaldo del Carmen - Inside Out
George Miller - Mad Max: Fury Road
Mark Osborne - The Little Prince
Midnight Screenings
Hong Won-Chan - Office / O Piseu
Asif Kapadia - Amy
Special Screenings
Samuel Benchetrit - Asphalte
Souleymane Cissé - Oka
Elad Keidan - In The Spirit Of The Stairway / Hayored lema'ala
Natalie Portman - A Tale Of Love And Darkness / Sipur Al Ahava Ve Choshech
Barbet Schroeder - Amnesia
Pavle Vuckovic - Panama
Share this with others on...