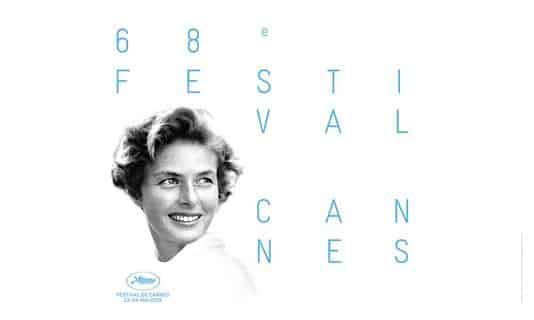 Ingrid Bergman featured on a Cannes poster.
After debonair Marcello Mastrioanni last year, the face of this year's Cannes Film Festival will be Ingrid Bergman, the star of Casablanca and the recipient of three Oscars, four Golden Globes and a French honorary César award.
The Festival organisers who made the announcement today said that the actress, who was a neo-realist icon as well as being a Hollywood star, reflected the values of "liberty, audacity and modernism" all of which the Festival also espouses.
Her daughter Isabella Rossellini said that she and her family were "very touched" by the honour which comes in the centenary year of her birth. She noted: "Her career covered an exceptional breadth of experience from small European productions to big Hollywood fare. My mother loved her craft of being an actress – she said it was not so much a profession but more of vocation and added that she had not chosen to act, rather acting had chosen her."
The photograph to be used on the official poster of the 68th edition of the Festival was by David Seymour, a co-founder of the legendary agency Magnum.
Bergman was born in Stockholm, Sweden on August 29, 1915. Her mother, Friedel Adler Bergman, a Hamburg, Germany native, died when the girl was just three years old. Ingrid's father, Justus Samuel Bergman, a Swede, raised Ingrid until his death, when she was 12.
As a teenager, Ingrid appeared as a film extra, in addition to acting in productions at the private school she attended. After graduating in 1933, she attended the Royal Dramatic Theater School in Stockholm for a year, during which time she made her professional stage debut. Her first speaking role in a film came in Swedish director Gustaf Molander's Munkbrogreven in 1935, in which she played the maid of a hotel that sold illegal liquor.
In 1936, Bergman made the film that would change her life. Intermezzo, written and directed by Molander, tells the story of a famous violinist who has an affair with his daughter's piano teacher. Her performance caught the attention of Hollywood producer David O. Selznick, who bought the rights to remake the film in Hollywood with the actress in the starring role. In 1939, at David O. Selznick's request, she made the transition to Hollywood. With this move she began a career that would span five decades.
Bergman, who died in London in 1982, aged 67, will feature at the Festival on screen in a documentary by Stig Bjorkman, which will be shown as part of Cannes Classics. The Festival organisers will also partner a tribute to the actress to be presented by Isabella Rossellini in September in five cities – London, Stockholm, Rome, Paris and New York - with such luminaries as Jeremy Irons, Fanny Ardant, Christian de Sica and many more still to be announced. They will read from her autobiography as well as letters from her correspondence with Roberto Rossellini.
Bergman was also celebrated in a dedicated strand at this year's Glasgow Film Festival.
The Cannes Film Festival runs from 13 to 24 May.
Share this with others on...