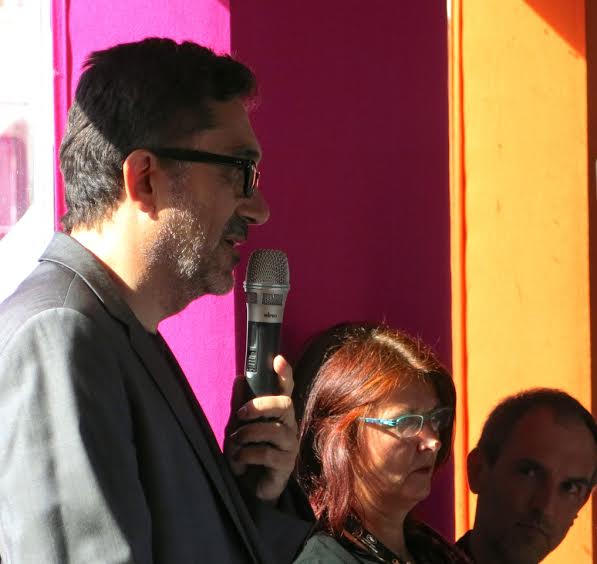 Turkish director Nuri Bilge Ceylan receives his FIPRESCI award for Winter Sleep.
As Cannes awaits the deliberations tomorrow (May 24) of Jane Campion and her Competition jury, FIPRESCI have announced this evening the winners of the International Critics Prize during a ceremony held at the Plage des Palmes.
Often seen as an indicator of what might be in store the jury (comprised of Esin Kücüktepepinar, Turkey, president, Jean-Michel Frodon, France, Pierre Pageau, Canada, Paola Casella, Italy, Tereza Brdeckova, Czech Republic, Olivier Pélisson, France, Alissa Simon, USA, Richard Mowe, UK, Frédéric Jaeger, Germany and co-ordinated by Pamela Biénzobas, Chile/France) singled out from the official competition Nuri Bilge Ceylan's Winter Sleep.
Richard Mowe, left, from Eye For Film, presents first time director Thomas Cailley with his award for Les Combattants, presented in the Directors' Fortnight
From Un Certain Regard, the prize-winner was Jauja by Argentinian filmmaker Lisandro Alonso.
The sub-jury covering both the Directors' Fortnight and the Critics' Week - who confined their choices to first films in each strand - chose Les Combattants (Love At First Fight) by debut director Thomas Cailley.
Ceylan, who was on hand to receive his accolade, said that a three-hour arthouse film needed all the support it could muster to ensure it was widely seen. He was grateful for the critical support not just for Winter Sleep but his other works.
At the same ceremony, the Ecumenical Jury opted for Abderrahmane Sissako's Timbuktu with special mentions for the documentary The Salt Of The Earth by Wim Wenders and Juliano Ribeiro Salgado and Hermosa Juventud (La Belle Jeunesse) from Spain/France and directed by Jaime Rosales.
Share this with others on...