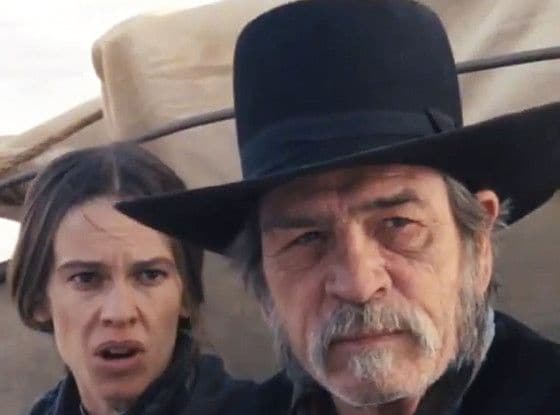 Hilary Swank and Tommy Lee Jones in The Homesman
At last the carefully manipulated suspense is over: Thierry Fremaux, the Cannes Film Festival's director, today launched the 67th edition at a Parisian media gathering at the UGC cinema on the Champs Elysées – and unveiled a host of familiar and anticipated names from previous editions as well as a smattering of new contenders and pretenders to the ultimate prize: the Palme d'Or.
They include the likes of the UK's Ken Loach and Mike Leigh, Canada's David Cronenberg, Atom Egoyan and wunderkind Xavier Dolan, the Belgian Dardenne Brothers and France's Olivier Assayas, Bertrand Bonello and Michel Hazanavicius as well as that essential New Wave icon Jean-Luc Godard.
Another of Cannes favoured choices Tommy Lee Jones will return to the Riviera with a frontier drama The Homesman which he directs and stars in with him and Hilary Swank playing a couple making an arduous journey across the Midwest. It marks Jones's first directorial stint since his 2005 Western The Three Burials of Melquiades Estrada.
For some out of competition razzamatazz Cannes will host the world premiere of DreamWorks new animation How to Train Your Dragon 2 – directed by Dean DeBlois.
John Cusack in David Cronenberg's Map To The Stars
In a selection that is lighter than some years on US fare there is strong interest in Foxcatcher, Bennett Miller's true-crime saga starring Steve Carell, Channing Tatum and Mark Ruffalo.
Fremaux who unveiled not only the Competition but also the Un Certain Regard programme as well as Midnight and Special screenings noted that of the 49 titles selected across the board (out of 1800 submissions) 15 were directed by women. In the past the selectors have been criticised for a lack of female balance.
In Un Certain Regard there will be much focus on Ryan Gosling's directorial baptism with Lost River (he was unable to attend last year's premiere of Only God Forgives because he was shooting it) as well as a first film by Ned Benson the romantic drama Eleanor Rigby starring Jessica Chastain and James McAvoy.
Under the Midnight shows much attention surrounds David Michôd, the Australian director of Animal Kingdom and his new film The Rover starring Guy Pearce and Twilight star Robert Pattinson. It was shot in the South Australian desert in early 2013. He has said: "It's not post-apocalypse. This is an Australia that has broken down into a kind of resource-rich Third World country."
The Festival runs from 15-25 May, with the closing ceremony and awards handed out May 24. Other sections of the Festival, including Critics Week and Directors' Fortnight, will unveil their programmes next week.
2014 Cannes Film Festival Official Line-up
Opener
Grace of Monaco (Olivier Dahan)
Competition
Adieu au langage (Jean-Luc Godard)
The Captive (Atom Egoyan)
Clouds of Sils Maria (Olivier Assayas)
Foxcatcher (Bennett Miller)
The Homesman (Tommy Lee Jones)
Jimmy's Hall (Ken Loach)
La Meraviglie (Alice Rohrwacher)
Maps to the Stars (David Cronenberg)
Mommy (Xavier Dolan)
Mr. Turner (Mike Leigh)
Saint Laurent (Bertrand Bonello)
The Search (Michel Hazanavicius)
Still the Water (Naomi Kawase)
Two Days, One Night (Jean-Pierre and Luc Dardenne)
Wild Tales (Damian Szifron)
Winter Sleep (Nuri Bilge Ceylan)
Out of Competition
Coming Home (Zhang Yimou)
How to Train Your Dragon 2 (Dean DeBlois)
Les Gens du Monde (Yves Jeuland)
Midnight Screenings
The Rover (David Michod)
The Salvation (Kristian Levring)
The Target (Yoon Hong-seung)
Un Certain Regard
OPENER: Party Girl (Marie Amachoukeli, Claire Burger, Samuel Theis)
Amour fou (Jessica Hausner)
Bird People (Pascale Ferran)
The Blue Room (Mathieu Amalric)
Charlie's Country (Rolf de Heer)
Dohee-ya (July Jung) [film] Eleanor Rigby[/film] (Ned Benson)
Fantasia (Wang Chao)
Harcheck mi headro (Keren Yedaya)
Hermosa juventud (Jaime Rosales)
Incompresa (Asia Argento)
Jauja (Lisandro Alonso)
Lost River (Ryan Gosling)
Run (Philippe Lacote)
The Salt of the Earth (Wim Wenders and Juliano Ribeiro Salgado)
Snow in Paradise (Andrew Hulme)
Titli (Kanu Behl)
Tourist (Ruben Ostlund)
Special Screenings
The Bridges of Sarajevo (various directors)
Eau argentee (Mohammed Ossama)
Maidan (Sergei Loznitsa)
Red Army (Polsky Gabe)
Caricaturistes – Fantassins de la democratie (Stephanie Valloatto)
Share this with others on...