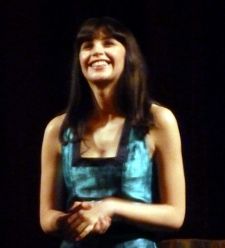 The 67th edition of Edinburgh International Film Festival kicked off last night with a screening of Drake Doremus' Breathe In. The director and his star Felicity Jones attended the screening.
Among the other stars at the gala screening of the film - which tells the story of a music teacher who begins to question his life after the arrival in his home of a British exchange student - were Kate Dickie, Brian Cox and Ewen Bremner.
Introducing the film, Chris said: "From now until the end of June we invite you to join us in a celebration of cinema. Film, among the arts, is perhaps especially worthy of being celebrated in that it is art that is very often taken for granted - in part because film is, in addition to being an art, also an entertainment industry and also in part because film is so close to real life. But at EIFF, we celebrate the art of film and film as art, whether it be in an industrial context or not. And we remember that what we love is not just its closeness to reality but something more than reality. So for the next 11 days, come and join with us and find out your own definition, perhaps, of what that something more than real life is."
The gala performance was followed by a party at the National Museum of Sccotland. We'll be bringing you daily news from the festival here.
Share this with others on...