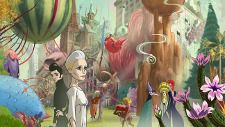 Although the bulk of the selection for the Cannes Film Festival Directors' Fortnight will not be revealed until Tuesday (23 April) the organisers have announced that Ari Folman's The Congress will open the 45th edition of the section on May 16.
The part-animation and part live-action film which stars Robin Wright, Paul Giamatti, Jon Hamm, Harvey Keitel, Danny Huston and Frances Fisher, is adapted from the sci-fi novel The Futurological Congress by Polish writer Stanislaw Lem.
Folman's Waltz With Bashir was a competition film in the Official Selection in 2008.
Directors' Fortnight artistic director Edouard Waintrop in making the announcement yesterday said: "The Congress is a haunted look on our future and the future of cinema."
Share this with others on...