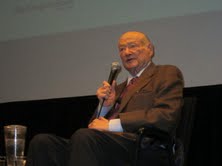 Mayor Ed Koch at the Film Society of Lincoln Center's Walter Reade Theater on January 13, 2013
Photo: Anne-Katrin Titze
I asked former New York City Mayor Ed Koch on Sunday afternoon, January 13, 2013, at the Film Society of Lincoln Center's premiere, how he would start his review of Koch. He hesitated for a moment and gave me the above line with that famous twinkle in his eye.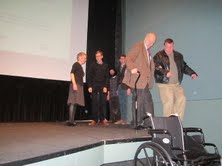 Three-term New York City Mayor Ed Koch at the age of 88 being assisted off the stage.
Photo: Anne-Katrin Titze
We were referring to the opening sequence of Neil Barsky's forthright documentary, that shows Koch flying home at night above the city he marked so well. The scene is the film's "first wild promise," to quote The Great Gatsby out of the context F. Scott Fitzgerald used it in, namely to describe the bridge that now bears Koch's name.
"The city seen from the Queensboro Bridge is always the city seen for the first time, in its first wild promise of all the mystery and the beauty in the world." The renaming ceremony of the Ed Koch Queensboro Bridge was held at Gracie Mansion when Koch was 86 years old.
Three-term New York City Mayor Ed Koch at the age of 88 died yesterday morning, February 1, at New York-Presbyterian/Columbia hospital from congestive heart failure, the day the film on his life opened in New York City.
Share this with others on...