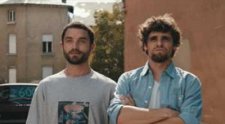 The 20th edition of the French Film Festival revved into action last night in Edinburgh's Filmhouse with a screening of charming and poignant comedy Mobile Home - and the Belgian co-production is a testimony to how far the event has come, with French language films from Switzerland and Canada also making an appearance this year.
The screening was attended by not one star but three, with director François Pirot and actors Guillaume Gouix and Arthur Dupont all on hand to talk about the story of two friends whose plans to leave home and see the world don't quite turn out as they expect. The trio proved an entertaining bunch, with plenty of Gallic charm.
Apologising for his lack of English, Gouix said: "When you speak three languages, you are trilingual. When you speak two languages, you're bilingual and when you speak one language... you're French."
Dupont, meanwhile, who would go on to treat us to a tune on his newly acquired nose flute after the screening, greeted the crowd with: "Congratulations for your city. Congratulations for the Queen."
The three of them took part in a lively Q&A afterwards and there is lots more to look forward to in the days to come including a sold-out gala screening of Astérix and Obélix: God Save Britannia tonight. There are still plenty of tickets available for other films showing in the festival, however, from the sweet, familly animation of Ernest And Celestine to the social class drama A Better Life and from the chance to see classic Eyes Without A Face to arthouse festival favourite documentary Bestiaire.
Special guests including Chantal Ackerman, who has a retrospective at this year's festival, will be plentiful in the coming weeks as the showcase makes its way around the country between now and December 2. You can catch films in Edinburgh, Dundee, Glasgow, Aberdeen, Inverness, Bo'ness, London, Kirkaldy, Warwick and Bristol. For more information, visit the official website.
We'll be bringing you extensive coverage right through the festival and you can read our reviews so far, here.
Share this with others on...