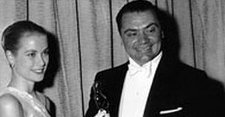 The actor Ernest Borgnine has died after a 61 year career. He was 95.
The Oscar-winning star of Marty appeared in over 50 films over the course of his working life, spanning a wide range of genres. As well as working on classics like Ice Station Zebra and From Here To Eternity, he became a stalwart of the Western genre with films like The Wild Bunch and All Quiet On The Western Front, he gained a loyal following among science fiction fans for his appearances in films like Escape From New York. He also starred in the popular TV series Airwolf.
Borgnine, who served in the US Navy during World War Two and later survived a plane crash, passed away at at Cedars-Sinai Medical Center in Los Angeles, with his family at his side. He had four children, with son Cris following in his footsteps as an actor and daughter Nancee working in film production.
Commenting on his longevity and the frustrating way that people kept asking if he was still alive, Borgnine said "I think you have to keep going. Otherwise, you know these fellas that say 'Boy I can't wait to retire. Boy, I'm going to be 65 years old, and I'm retiring and I'm quitting and that's it.' Well, two weeks later they're saying to themselves, 'What the hell am I gonna do?" And first thing you know they find themselves in a wheelchair or in a rocking chair going back and forth, back and forth, and that's the end of it. And suddenly you're dead.'" Working right up until the end, he only recently completed his final film, The Man Who Shook the Hand of Vicente Fernandez, which is due to be released later this year.
Share this with others on...