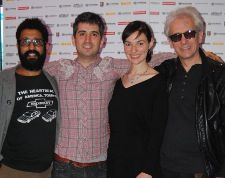 British Indie drama Stranger Things - about a grieving woman who forms a connection with a homeless man was named best UK feature film at this year's Raindance Film Festival.
Husband and wife filmmaking duo continue their winning run with the film, which was also named best narrative film at Slamdance earlier this year.
Croatian/Servian/Slovenian co-production Just Between Us - Rajko Grlic's comedy drama about middle-aged infidelity - was named best international feature, while Bulgarian love story Tilt, saw Viktor Chouchkov Jr pick up the best debut feature award.
Ruaridh Arrow's How To Start A Revolution - which explores the work and influence of peace-proponent Gene Sharp - was named best documentary, while Drew Cunningham's thriller Monk3ys won the award for best microbudget feature.
Italian short Reset - directed by Nicolangelo Gelormini - was named film of the festival. Other shorts winners were Denmark's Words, directed by Sven Vinge, which was named best international short and Michael Davies' Love At First Sight - starring John Hurt and Phyllida Law - which was named best UK short.
The winning team behind Reset will be offered the chance to film next year's Raindance Film Festival trailer, with the support of the Independent Film Trust.
Festival director Elliot Grove said: "There were some outstanding films across the whole line-up so selecting winners was especially difficult this year.
"Attendance was up by a staggering 62 per cent on last year proving that the appetite for independent film is thriving."
Share this with others on...