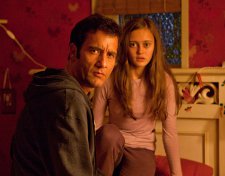 Horror/thriller Intruders will open the 59th edition of San Sebastian Film Festival on September 16.
The film is the latest from Intacto and 28 Weeks Later director Juan Carlos Fresnadillo and stars an international cast including Clive Owen, Carice van Houten, Daniel Brühl, Pilar López de Ayala and Kerry Fox.
The screenplay has been written by author Nicolás Casariego and the Ladrones director Jaime Marqués.
According to the festival's official website, the film "tells the parallel tale of two families whose lives are thrown off track by menacing apparitions: in Spain, a mother protects her son from a faceless stranger; meanwhile, in the UK, a young girl has terrifying dreams of Hollowface, a demon who becomes a real danger to the girl and her family".
Fresnadillo says the film "reflects my love of the darkest visual universe, of the demons buried in our unconscious".
The film will be distributed worldwide by Universal Pictures.
Share this with others on...