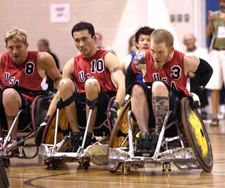 Murderball won the Audience Documentary Award
Celebrating its 21st year. The Dramatic Grand Jury Prize went to Forty Shades Of Blue - "the story of Laura, a Russian woman living in Memphis with Alan, a legendary music producer twice her age...When Alan's estranged adult son comes for a visit a bond develops between them that destabilises her ordered world." - while Why We Fight - examining how the American arms industry has become an economic necessity - was named best documentary. In the World Cinema competitions, Shape Of The Moon - about three generations of a Christian family living in Muslim-dominated Indonesia - won the Documentary Award, while and drama about post-civil war Angola - The Hero - won the Dramatic plaudit.
Audience Documentary awards went to Murderball and Shake Hands With The Devil, and their Dramatic votes went to Hustle & Flow and Brothers.
View Films by Strand:
View previous years coverage of the Sundance Film Festival festival:
Sundance Latest Reviews
Sundance Film Festival Features