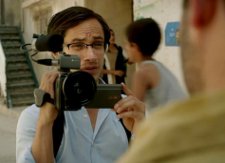 Gael Garcia Bernal in Rosewater
This international film festival aims to showcase the stories of activists and survivors from across the globe.
Now in its 19th year, it brings together documentary and fiction films with the intention of galvanising those who watch them to join those taking action against injustices many face every day.
This year's London arm of the festival will run from March 18 to 27 at the Barbican, Curzon Soho and Ritzy Picturehouse. The gala benefit is at the British Museum. The festival will include live music performances following screenings of Beats of the Antonov and No Land's Song and a Guardian Masterclass focusing on human rights reporting and digital storytelling. The opening night film (on March 19) will be The Yes Men are Revolting, attended by Laura Nix and the Yes Men.
View Films by Strand:
View previous years coverage of the Human Rights Watch Film Festival festival:
Human Rights Latest Reviews
Human Rights Watch Film Festival Features
The complete picture
Juliano Ribeiro Salgado and Wim Wenders discuss filming photography in The Salt Of The Earth.