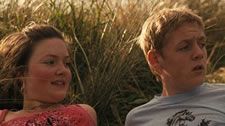 Holly Grainger and Tommo Turgoose in The Scouting Book For Boys
On his honour, a scout will do his duty and help other people at all times. But sometimes this can be more complicated than it might at first seem. When his best friend decides she wants to disappear from the caravan park where they live, hiding out in a cave, the young hero of The Scouting Book For Boys is eager to help, but soon things begin to go wrong. Star Thomas Turgoose and director Tom Harper made a special appearance at the Glasgow Film Festival to discuss it.
"To begin with I got two to four pages of the script from my agent and to be honest I wasn't that fussed," says the actor, who prefers to be known as Tommo. "I went to the audition and then I forgot about it because sometimes you don't hear anything for ages. Then about two months later I got a call telling me I'd got the part. I got the whole script, but I still hadn't actually read it until we were part way through the rest of the casting - I'm really bad at reading scripts. I was just blagging my way through. Then we were ready to start filming and I thought I'd better get on with it, so I sat down and read the whole thing in one go, and I was blown away. It was really amazing."
Tom Harper is amused. Just 30 years old himself, he has clearly bonded with his young star, and shares his easy-going attitude as well as his passion for this challenging story. "From the beginning I was drawn to it because of its unusual central character," he says. "He's a bit of an anti-hero and that felt more real because in life heroes make mistakes, nothing is black and white. I've even made some mistakes myself. And even at the end of the film I found that I still felt for this kid."
The two are also working together with Shane Meadows on a television version of the actor's breakthrough film, This Is England. Set four years after the original - they bicker over exactly what year this makes it - it will follow the same characters and look at how their lives have changed. Tommo insists that he has read the script for this one, albeit only just. He's clearly looking forward to it, but laments the wardrobe requirements involved. "Every film I do I get stupid costumes, flares and things."
This Is England and The Scouting Book For Boys both have one notable thing in common - they deal with issues faced by young people but the certificates they've been given mean many people around that age won't get the chance to see them. I ask Tommo how he feels about this.
"I can see what they worry about," he acknowledges. "If people watch it when they're younger it could go the wrong way, but it could be like a learning thing. As an actor I don't get informed much about certification so I never know until the last minute anyway."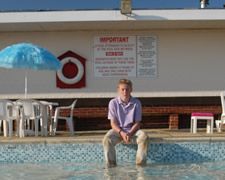 One of the delights of working on The Scouting Book For Boys, for him, was spending time with co-star Holly Grainger. "From the first day we met we got on really well," he says. "When we weren't working we would run around the caravan park doing stupid things, go on the beach, and just be mischievous and get in everyone's way."
"It's exactly what I was looking for," beams Tom. "For the film to work you have to believe that these two kids have known each other forever, and Tommo and Holly just clicked like that. I saw Holly early on and then auditioned a lot of other girls because I was second guessing myself, but in the end I went back to her. She was just perfect."
This is Tom's first feature, and most directors find that tough, but he assures me that he had a wholly positive experience throughout. "I was lucky because I got to work with people I really trust and really like," he says. Every director has a different style and I'm very much a collaborator. Anyone on set can have a great idea and I'm happy to incorporate that, because they're all talented people. The only thing that really changed from my original vision was the location. It was all written for Wales where there are lots of cliffs and caves but we needed to relocate it to take advantage of regional funding, or we just couldn't afford to make it. So we shot it mostly in East Anglia, but there are hardly any caves there. Eventually we found one in Norfolk. We liked the caravan parks and the particular sense of Englishness they have around there."
"The pool was ridiculously cold though," says Tommo. "We were filming in October."
"We did also change the end of the film," Tom says. "There was going to be more but we felt it worked where we left it."
Tommo agrees. "It leaves a lot of unanswered questions, like in This Is England with what happens to Milky. It's really up to the viewer to decide what happens."
Playing the troubled hero was clearly a difficult experience for him, at least in the film's later scenes - they were shot mostly in chronological order. But he has had tougher experiences in the past.
"When we were filming This Is England, Shane [Meadows] lied to me," he explains. "He said that Milky was really getting beaten in the room, so what you see, that's me really getting upset. But growing up as an actor I know things like that are not true now. When we were shooting the most difficult scene in this film I had on my iPod the song that played at my Mum's funeral in 2005 because I thought what David was going through, feeling he was losing his whole world, was like it was for me losing my Mum. But it was still difficult to get into the zone in that tiny cave with, like, 50 people crowded around me moving lights and things. I had to find my own space and separate myself."
The results of this hard work are certainly impressive. The Scouting Book For Boys is out in cinemas this week, so why not go and see for yourself?
Share this with others on...