Eye For Film >> Movies >> To Catch A Thief (1955) Film Review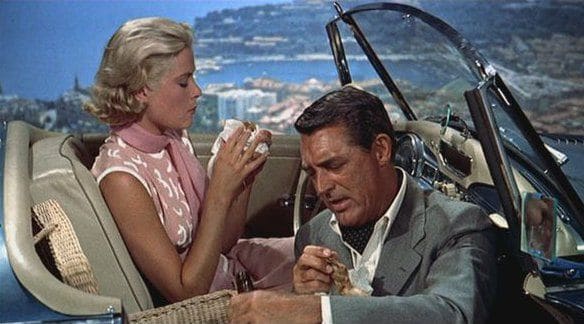 Following Dial M For Murder and Rear Window, when Hitchcock was fully focused on crime thrillers, To Catch A Thief features Cary Grant at the height of his powers and Grace Kelly in the last film she made before royal marriage ended her career. It's among the most successful of the director's lighthearted comedies, largely thanks to the droll delivery of the leads, with Kelly building on her performance opposite James Stewart to create a character who is much more than just a passive love interest. As rich socialite Frances, she's out to catch Grant's retired cat burglar, Robie. He's out to catch the new cat burglar who stole her jewels, before he gets the blame. The new cat burglar is out to get hold of the most valuable treasures in the Riviera. There's sun, sea and suspicion - plus Jessie Royce Landis as Frances' mother, sticking her oar in wherever she can.
Though it never quite captures the atmosphere of the master's strongest films, this is an effectively twisty little thriller with enough action sequences to keep it on the right side of farce. Unsurprisingly, it's at its best in more intimate scenes, with the verbal sparring between its leads not noticeably decreasing as they develop a romance. Hitchcock was always fond of challenging established narratives, even in his more conventional films. Here he gives us a feistily independent hero afraid of being persuaded to give up his adventures and become a kept man, whilst Frances is an active, confident heroine throughout, more than ready to do the chasing. Fans of Kelly's earlier work will not be disappointed, however, as Hitchcock has her dressed like the princess she was soon to become, with Edith Head's creations among the most glamorous thins she ever wore.

Although it would be almost 60 years before stealing jewels in Cannes became de rigeur, screenwriter Hayes, loosely adapting David Dodge's book, gives us a plethora of suspects, including one who is ready to compete with Frances for Robie's affections. The flirtation in the film worried censors at the time but, in combination with playful wit, inspired many copycat capers. Hitchcock was experimenting with something new, using aerial shots and shooting the whole thing in glorious (though sometimes rather lurid) colour. The transition from his earlier work isn't seamless but what he learned here he employed to great effect in later films like North By Northwest and, most notably, Vertigo; it plays like a glowing holiday memory, leaving the viewer wondering what time might have in store.
Reviewed on: 15 Jul 2014
Share this with others on...