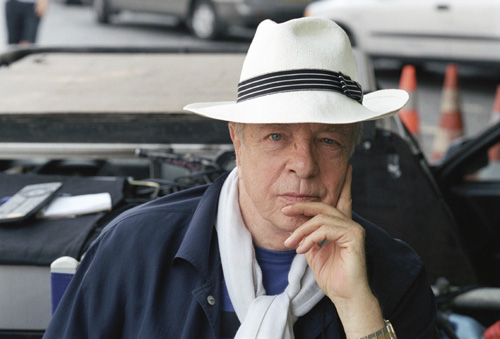 Franco Zeffirelli was known for his opulent and lavish production values
Photo: Film Italia
Franco Zeffirelli who died earlier today in Rome at the age of 96, was a major figure of both cinema and theatre. He started out assisting
Luchino Visconti
with whom he had a long affair but later mainly won acclaim for adapting Shakespeare as well as staging lavish operas on stage and on film with the likes of Maria Callas among others.
His The Taming Of The Shrew, in 1967, starred Elizabeth Taylor and Richard Burton who were at the summit of their careers. His ground-breaking Romeo And Juliet, in 1968, introduced two then unknowns Olivia Hussey and Leonard Whiting. The film received a best picture Oscar nomination and collected Academy Awards for cinematography and costume design. He has been credited for making Shakespeare accessible for a whole new generation.
His 1990 Hamlet featured Mel Gibson in a break-out role for the action hero as the troubled Prince alongside Glenn Close as Gertrude, which generally was well received critically.
Zeffirelli assisted Visconti on the 1948 film classic La Terra Trema; his 1951 Belissima and 1954's Senso before he began carving out his own reputation, much of it in some of Italy's top opera houses including La Scala, Milan, before moving to London's Royal Opera House for new productions of Lucia di Lammermoor, which launched diva Joan Sutherland, Cavalleria Rusticana and I Pagliacci.
Zeffirelli's talents for lavish production values and eye-catching and opulent visuals became his trademark. He brought to the screen Verdi's La Traviata, as well as Otello, both memorably starring Placido Domingo. La Traviata earned him another Oscar nomination for art direction. He also made an unforgettable life of Christ with Jesus Of Nazareth (1978) with Olivia Hussey playing the Virgin Mary. His lavish style was not always suited to cinema: The Champ (1979), the boxing-movie remake starring Jon Voight, Faye Dunaway and Ricky Schroder, and Endless Love (1981) with a young Brooke Shields and Tom Cruise were received with lukewarm responses from the critics.
The film director was a devout Catholic and openly gay
Photo: Unifrance
Yet he found favour (notably in the Vatican) with his religious epics such as in 1972's Brother Sun, Sister Moon, about the life of St Francis of Assisi, and five years later directed the international mini-series Jesus Of Nazareth (with Hussey playing the Virgin Mary). He was not always so fortunate - a biopic of conductor Arturo Toscanini with C Thomas Howell barely saw a release. French actress Fanny Ardant incarnated Callas in his drama Callas Forever in 2002 with Jeremy Irons. In 1996, he directed an adaptation of Jane Eyre, which had its admirers while his 1999 film
Tea With Mussolini
, provided an engaging portrait of a group of American and English eccentrics in northern Italy before and during Second World War, with a stellar cast of Cher, Judi Dench, Joan Plowright, Maggie Smith and Lily Tomlin.
He worked regularly with the New York's Metropolitan Opera House including Tosca and Norma (both starring Maria Callas), Anthony and Cleopatra, Pagliacci and La Traviata. His direction of La Boheme in 1981 with Teresa Stratas and Jose Carreras was said to be one of the most extravagant productions in the history of the Met. He made his Broadway debut with a 1963 production of The Lady of the Camelias starring Susan Strasberg.
Zeffirelli was born illegitimately in Florence in 1923 after his mother Alaide Garosi (a fashion designer who died when he was aged 6), had an affair with a travelling businessman Ottorni Corsi. She tried to register the family name as Zeffiretti but it was wrongly transcribed and the name of Zeffirelli remained. The narrative of Tea With Mussolini was said to be semi-autobiographical - after his mother's death he grew up among Italy's British expat community and was tutored by an English woman Mary O'Neill.
He received his education at the Academia di Belle Arti in Florence, and began his studies in architecture. Once he had seen Laurence Olivier's Henry V, in 1944, he decided to become an actor and worked in the theatre to considerable acclaim. After he began work as a set designer at the Teatro della Pergola in Florence he met Visconti who became his mentor.
Zeffirelli's theatre work ranged from Shakespeare to Tennessee Williams. At London's Old Vic, in 1960, he worked with a then unknown Judy Dench on Romeo and Juliet. In 1970, at the Pope's behest, he staged Missa Solemnis to make the 200th anniversary of Beethoven's birth.
He was a devout Catholic which caused some conflicts with him being openly gay, particularly from LGBT activists who did not support his loyalty to the Church. In the early Nineties he took to politics and was elected to the Italian Senate under Prime Minister Silvio Berlusconi's government. His outspoken views often landed him in controversy.
He was a friend and confidant of Callas, Anna Magnani, Laurence Olivier, Richard Burton, Elizabeth Taylor, Liza Minnelli, Coco Chanel and Leonard Bernstein.
Zeffirelli had an uneasy relationship with reviewers. He told one interviewer: "I've made my career without the support of the critics, thank God."
One of his two adopted sons Pippo, speaking at the family home in Rome, indicated that his father had passed away "without suffering".
Share this with others on...