Beauty and the Beast: Jayne Mansfield meets Anton LaVey
David and Todd are finishing breakfast in the bright, breezy kitchen when we meet over Skype. Their documentary Mansfield 66/67, which chronicles the final year of superstar Jayne Mansfield's life and screened at last year's Fantasia, has been scheduled for theatrical release in the UK, and they're keen to talk about it. Todd, sporting a bright pink shirt that Jayne Mansfield would probably have loved. I ask him if he and David ave always been fans of hers.
"I knew that story about her and Anton. My mother told it to me," he responds. "When I was a little kid and I saw a picture of her with a skull and Anton LaVey, my mother told me that she had taken off her clothes and was nude. I was terrified and interested in it. And then, years later, David and I were romantic comedy writers and we we needed to follow up a romantic comedy spec with a new agent and I told him the Jayne Mansfield story so he did extensive research around the turn of the century… and they said, 'Well, Jayne Mansfield is dead but if Anton LaVey is still alive and you have to get rights from him.' And we said, 'Oh no, how are we going to that?' And he died the next day."
They both look pleased when I gasp.
"That was a sign that we needed to do something with this story," Todd continues. "And the narrative version, well, no-one wanted to get involved because of the Satanism and because Mariska Hargitay, Jayne Mansfield's daughter, is the number one TV star in America. Everyone knows her so, you know, nobody wants to say anything critical about Jayne. But when it came time to start a new film we just thought we know so much about this. We knew Kenneth Anger so that was like our first move, to get him. We met Marilyn Manson and he agreed to be interviewed, and John Waters agreed to be interviewed. So we had it good."
At this point their laptop battery starts to runs low and David excuses himself to go and get a power cord.
"We had previously been executive producers of a documentary called Room 237, which was about people's interpretations and conspiracy theories about the Kubrick film The Shining," Todd goes on. "And it was a big hit and it made people very angry and it made a lot of people laugh. You know just because we were dealing with crackpots as serious sources of information. But at the same time, everything people say about The Shining could be true, because we backed it up with visual evidence."
David, back now and plugging in the laptop, adds "We also took the approach – and we did this with that film and with Mansfield as well – that we don't really care about proving whether something is true or not true, we care about the myths that are living on in the culture and the way that something resonates with the audience. And so for us, both films have a kind of parallel concept, which is that veracity is unimportant. It's whether or not something has gotten inside of you and it lives on."
I ask if he feels that's something that was important to Jayne and Anton themselves, given the way that they cultivated their personas.
"Absolutely, because both of them were creating public personas and also, obviously, were private people that you can never quite get to know. You can only know them through the filter of what they presented to the outside world. The story is fascinating – the legend, as it is, of them coming together is supported by very few photos and a few articles and then what people said about it, what they felt about it, what got reported about it and then how it became like a telephone game: this person tells that person and this person tells that person and the story gets bigger. You know, did the curse over her had have something to do with her son being mauled by a lion? You have to start trying to figure out if you can put those things together, but culturally people tell the story as if all of those things belong together."
Todd interrupts. "What made us really happy was John Waters said 'Oh yeah, and she died in this horrible thing with a liquor bottle – am I making that up?' Everyone will tell the story like they know it. They have no idea."
David agrees. "And when we're travelling with the film we often have people stand up and tell us stories about Jayne or about the interaction between them or about the film itself, and we always find it kind of interesting that people will continue the myth or retell the myth."
I ask Todd how, given the richness of rumour surrounding Jayne's life, they decided what should have a place in the film and what shouldn't.
"Well, remember that this documentary took four years to make," he says. "We had periods where we're like, 'We know the truth! We're going to do an exposé and we're going to get to the truth of what really happened.' And then the more we tried to back that up, the more we found inconsistencies and things that didn't add up. So then we were like, 'You know, maybe it is true. I don't know.' It's really hard to know."
"I guess in deciding what stayed in and what went out, it's a lot to do with whether or not you've got good photographic evidence, you've got a quote from somebody." says David. "There are a few other outside stories that had to do with their story that we didn't include just because they kind of fizzled or didn't go anywhere. We tried to include pretty much everything that we found that belonged inside of this story. And so, for instance, Anton going up to the top of the mountain to cast an incantation that reversed the fate of her son is a story that's been retold many, many times but there's no evidence of it whatsoever!" He laughs. "None. And so we decided, let's do that, that'll be fun, and we made a sequence that made it seem more true than it is, but it's a cartoon."
"The journey of this film has just been magical," says Todd, "because we kind of had been at it for about three years, like 'Let's do it! Let's tell the truth!' 'No, no, let's go completely rumour.' And then we got artist in residency at Leeds Beckett University, and we had an office and we have over a hundred students and faculty members involved, which was a really wild creative experience, and..."
"...and a bit of a deadline," David interjects, "because we were there and they were offering so many resources and we knew that if we could manage to take advantage of them, we could get ourselves all the way to the mix and to the completion of them film. So we finally put the deadline over our own heads. I will say, though, that every documentary is like this. It lives, it breathes, there's more information, but the movie's done and we're seeing beautiful photographs and we're like 'Oh! If we had only seen that when we were making the movie!' Documentaries have the moment when you have to say to yourself 'We're putting this out, the is is "done." And we have to present it to the public and let people respond.'"
I ask if they're working on another one now.
"We are," says David. "We have a new, exciting documentary – for us especially. We're Cardinophiles, we're huge fans of Pierre Cardin. We collect his furniture, we have a car that he designed from 1972, and we went to Paris just to try to meet him and shake his hand. We walked into his store at 10am on a Tuesday morning and by 2pm we were sitting down with e man speaking about whether or not we were going to do a documentary. So he's agreed to give us full access, access to his archives, unprecedented interviews – he's 95 years old – and so we've just started, we've done a little teaser and we're doing a big presentation soon… We'll be looking for co-production partners and trying to put the financing together.
"It's funny. The Jayne Mansfield movie is something we lived with forever, and this one was a germ of an idea because we happen to love what this man does, and in four hours we found ourselves deep into doing a documentary about him. So it's 20 years versus four hours of thinking about something, and off we go!"
Todd laughs. "We've been together for 27 years and we always consider ourselves promosexuals. We'll do anything to get in the paper. So I think we're drawn to like-minded promosexuals."
Did that attitude contribute to the way they created the film's very distinctive (and very pink) look?
"Definitely," Todd says. "It was very influenced by Jayne's films, her first two films, The Girl Can't Help It and Will Success Spoil Rock Hunter? But if you're going to do a film about Jayne Mansfield it had better be in Technicolor with red lips and platinum hair..."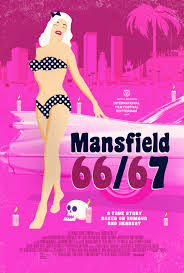 "...and also I think that we have a kind of Ebersole Hughes style which is bright, entertaining, colourful," adds David. "It's the way that we approach things. We like multiple layers, we like split screen and lots of photos and we always says say we want someone to feel that they want to see it again. So if imagery is going by too fast and too much information happens but you're having a great time then you say 'Oh, I want to watch that again!' We always kind of hope that's what our films feel like to people.
"It's funny because sometimes we get criticised for being entertaining as opposed to, say, the serious documentary filmmakers who let you look at the wheat blowing in the wind while somebody's soft voice comes over and tells you the pain that they went through, but we like being entertaining. Our final pass in a film usually is to suck the air out, so we try to keep it moving and push it forward. We're always trying to keep the train moving and keep the audience entertained. It's a style that we adhere to. We love it."
"It's a real challenge now adapting our style to a film in a foreign language which we don't even speak," says Todd. He explains how they watch Mansfield 66/67 at a festival in Paris and realised what a challenge it must be to add subtitles to it.
How does he feel about the UK release?
"We're very pleased to be opening in England because, I don't know, it seems like English people have the right sensibility for us. They don't get as much grief for being different, where Americans certainly do. I'd like to think we have a European sensibility," he says with a smile.
And finally, did making the film change the way they saw Jayne Mansfield?
"I think it really did in a couple of ways, " says David. "One is that even when we began all of our research and we were doing this story about Jayne in narrative form, we had a bit of a snarky tone sometimes towards her, making a bit of fun, you know, having fun with that outsize personality, and as we got to know her I think we really grew to respect her a lot more, and it really crept into the tone of the documentary. We had, as I said, the narrative form of the screenplay that Rose McGowan considered playing Jayne Mansfield in for a friend of ours, Darren Stein, who was going to direct the film, and we sat down with her, and in her attempt to understand and want to play Jayne, she educated us on a lot of places where we were kind of making fun of her when she would have to figure out how to play that moment. And we took her a lot more seriously. That session with Rose ended up crossing over into the respect that we gave Jayne in the movie.
"We like to say that we think it's impossible to walk away from our film without falling in love with Jayne Mansfield. Yes, it has this salacious tone. Yes, we're talking about all these fun, campy sides of her. But we love her. That footage of her in Vietnam breaks your heart."
"I didn't think about it before," says Todd, "but now, I would give anything to go and have dinner in her house. She just seems like a scream. She's super funny, she knew about everything."
David nods. "Often people stand up in screenings and they don't have a question, they just want to tell a story about Jayne because they once crossed paths with her, and everyone always remarks about what a nice woman she was. How kind she was and how nice she was to them."
Mansfield 66/67 opens in UK cinemas on 11 May.
Share this with others on...