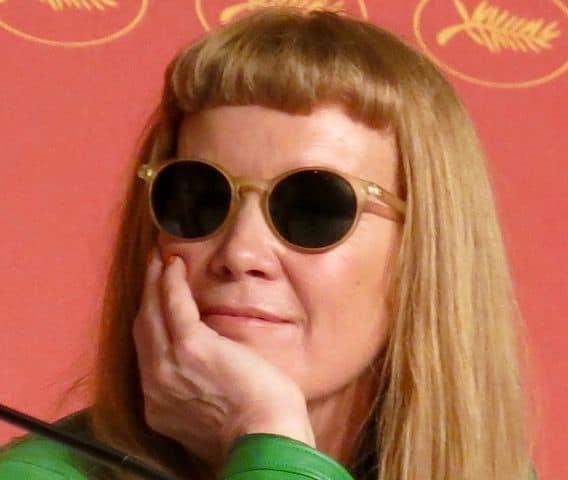 Andrea Arnold: "It was quite difficult doing it all by myself and being in all that space."
Photo: Richard Mowe
For her first film in the States director Andrea Arnold criss-crossed the country staying in dingy motels in much the same way as her cast do in her road movie American Honey.
She had read a piece in the New York Times describing the youngsters who try to make a living selling magazine subscriptions even though the trend is for reading online. "Everything else came from my imagination. Once I started looking at it I realised I did not really know the US. So I took a whole bunch of trips, starting in the west then the middle and the east.
Shia LaBeouf: "I feel as much part of the underclass as the rest of the cast."
Photo: Richard Mowe
"It was vast, open, really flat and seemingly endless. It was quite difficult doing it all by myself and being in all that space. It does look empty, but it is beautiful when it changes. Once filming started we did 12,000 miles together and the actors did not know where were going from one day to the next."
At one point her travels a real crew of magazine subscription sellers turned up by chance at the motel the film crew were staying "and we used them in the film. I hung out with them for a bit before I continued writing. Their job is really hard work."
Arnold admitted she had a romanticised view of the States from Hollywood and TV series she grew up with such as The Little House On The Prairie. "I got quite upset about some of the towns I went to. Without money you cannot get health care and those kind of things shocked me."
In West Virginia she found funeral directors were flourishing and in one small town there three pharmacies, in one of which there were five people handing out prescriptions. Basically they were dishing out pain killers to older people and anti-depressants to young people. "
Sasha Lane: ""I was chilling out and she came up to me and seemed really nice."
Photo: Richard Mowe
Shia LaBeouf, who is the only star in a cast of mainly unknowns, said "All our personalities were in there, and we had to go with what we felt that day. "
He felt himself as much "part of the underclass" as the rest of the cast. "My father worked in Bakersfield for a bit, and the only thing there is a prison, so everyone works there," LaBeouf said.
Despite his energetic sex scene with newcomer Sasha Lane he was adamant that directors did not hire him for that reason. ""I don't think I get hired for sex scenes," he said, nonplussed.
Lane, from Texas, was "discovered" by Arnold on a beach during her spring break. "I was chilling out and she came up to me and seemed really nice," said Lane, whose parents did not approve – but she went ahead anyway.
Share this with others on...