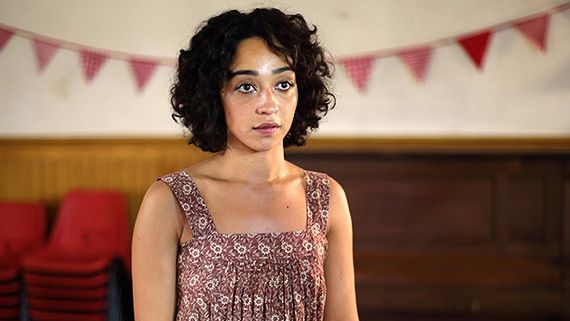 Iona (Ruth Negga) on the sidelines
"I've been writing for three months, so this is the most I've heard my voice for a long time... It's a bit strange." The voice in question, which, incidentally, isn't at all strange, belongs to writer and director Scott Graham, whose second film, Iona, is out on Friday. Graham's debut, Shell, was released to critical and festival circuit acclaim and garnered a BAFTA nomination; however the memory of Shell is bittersweet for the director, who wrote a list of all the things he would change about the film after it was released. He still has the list. Yet, in making Iona, Graham now says he can appreciate Shell for what it is, and is proud of the film. This dissatisfaction indicates the obsessiveness of the perfectionist filmmaker - never happy with the cut, always looking at things to be improved.
And this may be borne out by the fact that the cut of the film to be released on Friday is quite different to the one seen by audiences at last year's closing gala of the Edinburgh Film Festival. Without giving away crucial plot points, the new release begins differently, by cutting the quite shocking opening of the previous version. Instead this new cut offers a subtler and, truth be told, more effective - and affecting - glimpse into the event which has driven our lead character back to the island from which she derives her name, Iona.
But the finished version of the film is actually, also, the first version of the film. Graham was keen to learn from his experience on Shell, and stay true to his instincts, by rowing back from the cut shown at Edinburgh. "The version of the film that is now the finished version is actually the first cut that we got to. As we got further into post production and closer into having to lock the film we slightly panicked and thought 'we haven't done an assembly of the script'. The script begins in Glasgow and was a more kind of linear version, which was shown in Edinburgh. So we did a more straight assembly and decided that that was the cut we would show in Edinburgh."
Daniel (Douglas Henshall), Bull (Ben Gallagher) and Iona (Ruth Negga) in the kitchen
"We talked about it a fair bit after the screening in Edinburgh and what it came down to was an issue with perspective. Although it's very much Iona's film, you get the perspective of the six different characters, seven if you count the island, and by beginning in Glasgow I was kind of setting of something like a thriller. I wasn't really delivering on that and I wasn't actually interested in that element. I was more interested in what happened on the island. So we went back to that version, the more experimental cut and that's the cut that's going to be released."
Iona's return to the island reawakens troubling emotions for her, and the family she'd left behind. As with Shell, the film's success lies in the quiet building of familial tension, exploring characters who have trouble expressing themselves and are paralysed by deep-seated emotions. "I think it's a trait that runs quite deep in Scottish people. It was interesting to hear Greig Laidlaw [the captain of Scotland's rugby team] discuss the way the Scotland team was getting paralysed by emotion for a while," says Graham. He adds: "I'm drawn to characters like that and almost try to give them a voice or give audiences insight into what's going on with these people that can't quite communicate. There's something quite theatrical if you make it a study of a family, or the relationship between father and child, when you're able to focus on the little things and there's something claustrophobic about it that I quite like."
And this is a strain that runs deep in Scottish cinema too. Absent or troubled father figures are seen often in films looking at childhood or adolescence, going back to Bill Douglas's Childhood Trilogy (1972-1978), much admired by the director. Ratcatcher (1999), Sweet Sixteen (2002), Neds (2010) and the recent adaptation of Grassic Gibbon's Sunset Song (2015), exist in similar terrain. Indeed, cheerful representations of childhood are little seen beyond the work of Bill Forsyth (That Sinking Feeling, Gregory's Girl). This was a relief to Graham, who says that while he wasn't consciously writing in that lineage it "was kind of a comfort". "I felt that I was tapping into something that was real for people. I'm trying to make something that rings true for people and that matters for them and provides them with some sort of shared experience. I love Bill Douglas and I think that I'm still figuring out the Scottish psyche, and I think that's probably what all Scottish artists are doing: figuring out what's true for them and hoping that it might be true for other people as well."
Iona (Ruth Negga) dancing at the ceildh
As Iona and her son Bull (Ben Gallagher) try to escape the pain of their past on the island, they find that this brings its own problems. Iona's return to the home of Daniel (Douglas Henshall), who looked after her after Iona's mum died, provokes some awkward memories. Daniel's daughter Elizabeth (Michelle Duncan), as well as her husband Matthew (Tom Brooke) and daughter Sarah (Sorcha Groundsell), have their equilibrium altered by this visit from the past. Bull and Sarah become close, while Elizabeth's distrust and chilly welcome of Iona is best exemplified in a terrific ceilidh scene in which Elizabeth burls Iona around just a little too vigorously, sending her spinning and flustered. We get the impression that Iona's return isn't welcomed by everyone.
Not least of which may be another character, the island itself. Iona is an important site for Christianity in Scotland, and the religious adherence of its inhabitants, and its geography, gives the film a claustrophobic feel. The Highlands and Islands of Scotland, so often a restorative land for fantasy escape (Brigadoon et al), or a forgotten backwater filled with cult horror (Wicker Man et al), are in Graham's films beautiful landscapes filled with a quiet menace. "Yeah it's interesting to compare them because the landscape is ever present in Shell, it's both epic and quite claustrophobic but it is very much a background element. But with this film I wanted Iona to have more of a direct relationship with the island, almost to be fighting with it at times. Communing with it in some way, both her and her son both do that separately", says Graham.
While Bull seems to find some comfort and relief in the prospect of God, Iona's relationship is more problematic. "When I went to Iona as a kid I was told that this is somewhere people go to feel close to God and over time that translated into someone going there who doesn't feel close to God and I thought that was an interesting conflict. Rather than be an atheist which would give her a kind of difference, I thought it was interesting that she had faith once and lost it, and perhaps there's still remnants of it there", says Graham.
It is in these scenes where Bull's essential vulnerability is expressed. Both Ben Gallagher and Sorcha Groundsell offer affecting performances in the film, with Ben's quiet stoicism offset by Sorcha's easy going charm. "We held open auditions in Glasgow and Edinburgh", Graham says of their casting search. "When you're casting someone of that age in Scotland, you're looking for a non-actor in a way. They both had begun some drama schooling and I think they both have ambitions to be actors. But you're looking for that kind of rawness. I'm really proud of what Ben does. I think there's something honest about what he gives and quite exposed and I think his face and facial expressions are incredibly cinematic. I love those big close ups of his face, and my heart just goes out to him. And Sorcha's quite different, as is her character, there's a different kind of energy".
Both Graham's films have been filmed on location, and the (seemingly never ending) debates about the arrival of a Scottish film studio doesn't particularly interest him. "I think there are more important things. It's quite a heated topic, the whole studio thing. I mean, from personal experience I'm still attracted to shooting on location so it wouldn't have made much difference to the two films that I've made", says Graham. The discussion of the film studio often goes hand in hand with calls for a stand-alone Scottish screen agency (like the Irish Film Board, Danish Film Institute or even Screen Yorkshire), however Graham has nothing but praise for Creative Scotland, and the "really great people" working there.
So, what is Graham working on next? It is notoriously difficult to get a second film made in Scotland - never mind a third. Graham has found inspiration from a, perhaps, unlikely source: The Boss. "I'm at second draft, and I feel really, really good about it. It's kind of a departure for me in that it's about a male protagonist, a father and son. So another parent child relationship, but it's set in my home town and loosely inspired by a lot of Bruce Springsteen songs, as he sings about growing up in small towns and about racing cars, and the ties that bind you to your family and your home", says Graham. While it will be tonally different from Iona, more hopeful and optimistic, it might be too much to expect a Scottish Fast And Furious, but Graham does assure us that there will be a pursuit "...mostly on foot actually!"
Share this with others on...