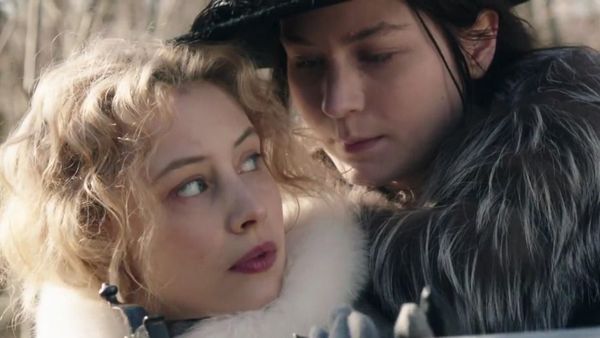 Sarah Gadon as Ebba and Malin Buska as Kristina in The Girl King
It's not often that a Finnish director's take on a Swedish historical figure makes an international splash, but The Girl King is fast becoming a festival hit, winning praise from audiences and critics alike. After my recent interview with Malin Buska I spoke with director Mika Kaurismäki to get his take on how it all happened.
"I was asked to direct this film in 2009 in a bar in Rio de Janeiro," says Mika. "A German producer asked me if I would be interested in doing a film about Kristina. I remembered when I was young, my teacher telling me about Kristina. I knew she was a very strong character with interesting ideas, and a very modern person for the time."
Mika Kaurismäki
Photo: Soppakanuuna
In the past, he's specialised in documentaries. Was he process of making this film similar, since most of it was rooted in historical fact?
"In a way, yes, a lot of it is research because it's so important for a film based on a real person and events, reconstructing Kristina and her life. She did so many things, even after her abdication. That was the biggest challenge in the screenplay, deciding what to include and what to leave out. We concentrated on these ten years that were very important for her and her life story and her love story with Ebba, and of course there was Rene Descartes and free will and the war in Europe and what was happening with art and science at the time.
"We had to find the perfect actress for the role. She had to carry the film with the camera on her almost all the time. It took a long time to make the film and there was a lot of casting and a lot of ideas. Malin hasn't done anything I've seen, only one film before this, Happy End, but when I saw it I felt this could be Kristina. Then, when we met in Stockholm for the first time, she felt like the right one. It helped that we were both Kristina freaks and fans so she knew about the character already. Did she tell you that her second name is Kristina? She was named after the queen. We connected very well.
"I met Malin three years before we started shooting. We met many times during this time and discussed a lot. She worked very hard and read a lot about her [Kristina], so when we finally got to shooting she already had an idea what she could be. That was great because she was already in the character."
Although accuracy was important, he says that he was always more interested in the characters. he got on well with all the actors, describing them as "a little family" in the castle where they were shooting.
Malin Buska all wrapped up for the snow that wasn't there.
"I didn't think so much about what was the 17th Century. I was trying to figure out what she was doing with her life. Especially now, when there are religious wars in Europe again, I think many young people are feeling a bit lost. There's a very strong parallel so I wanted to stay close to her. So there are some nice costumes and sets but I mainly stayed close to her and the character. I've never done a period film before. Every costume change took an hour and a half. For me as director it was a bit stressing! It helped that with Malin I had a good relationship, a good rapport, so I could rely on her for a lot of the minor detail. We also had to think about the weather. The screenplay plays manly in winter but in 2014 we didn't have any snow, even though at that time of year there's usually a lot of snow, so we had to change a lot of the scenes in the screenplay and look for artificial snow. Eventually we found an ice hockey rink we could use. So it was a big challenge.
"The shooting period was very short but the development was long and we were well prepared. I had a good director of photography and costume designer and set designers working absolutely on the limit, but we got the shots we needed."
Central to all this, of course, was capturing Kristina herself.
"Absolutely because she's the main thing in the film. I wanted to show that Katrina was really amazing. She would study from five in the morning until ten at night, she spoke seven languages. She spent time with Rene Descartes and advanced the idea of free will, which was really revolutionary. Of course the establishment didn't like it so much but Katrina got interested and that's why it's quite an important part of the film. When she decided to abdicate she was exercising her free will to do what she wanted in life."
Kristina in the world of politics
Even if that meant giving up her apparent power as monarch?
"Exactly, yeah, she wants freedom instead being queen. She was a young girl among very old, very conservative men. She was very clever and even when she was very young she already took on the world of politics.
"She had to do lot of things to get what she wanted. She played with the Church, the peasants and the royals – it was a big political game. Even her abdication was a long process. She had to do lot of work to get it right. Choosing her successor was so very complicated and to achieve this she had to be very clever and very manipulative."
So after a film like this, where does he go next?
"I actually did Homecoming, a small Finnish comedy project, already after this. I'm writing a few things at the moment, one in Brazil and a couple in Finland... I don't know which one will be next but I think maybe not next year but in 2017 I will shoot something next."
Share this with others on...