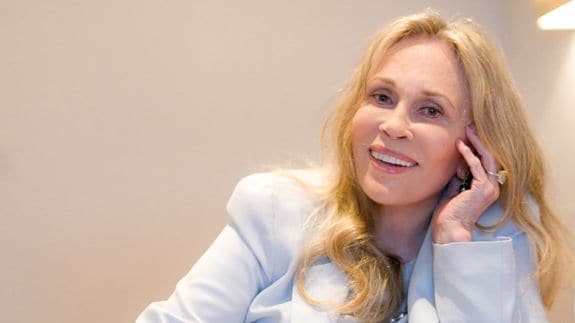 Faye Dunaway - she came, she saw, she conquered as the recipient of Locarno's Leopard Club Award
Faye Dunaway, forever the gun-toting moll from Bonnie And Clyde, has been wooing the crowds at the Locarno Film Festival, where she has received the Leopard Club Award. Richard Mowe looked in on the action for this profile.
When she walks in a room, Faye Dunaway, statuesque, trim with blonde mane cascading, cannot help but turn heads. It's part of what being a star, which she has been for several decades, is all about. She has maintained the aura and the looks (with a little cosmetic help perhaps) while dressing the part in a shimmering white outfit.
The only heads she doesn't turn belong to Hollywood studio execs and directors, who appear immune to the charms and talents of actresses once they reach the 40-plus watershed. Dunaway, 72, has had time to adjust to the anomaly while her male contemporaries, among them her Bonnie and Clyde co-star Warren Beatty, Robert Redford and Dustin Hoffman, continue to land prime roles.
"American movie-making is geared to the teenage audience in the mall. And the studios feel they need people of the same age to play in many of the movies. That, coupled with the fact as a society, America does not value people as they grow older, makes it very difficult," she says. She feels that middle-America needs a filmic education, applauding efforts by some of the smaller independent companies to take more demanding fare into the heartlands.
She hasn't been idle on the sidelines, finding gainful employment with European directors including Luc Besson, Emir Kusturica, Volker Schlöndorff, and Lina Wertmüller. She is a regular attender on the festival circuit and at awards ceremonies.
The inequality of opportunity, however, continues to grate. "I love watching people like Meryl Streep or Susan Sarandon or Helen Mirren or Judi Dench, who, if anything, seem to get better as they get older. But they all have some difficulty in landing decent roles. But there is a cure for all this - and it's to do with personal power and dedication.
"I can't afford to wait around for them to give me a role. I have to find the projects that I am passionate about and find some way to get them on. Now with digital cameras, and I've got one myself, you can make a movie for very little money. I am determined to wage a war against the forces of a society that tries to put you out to grass."
The situation today marks a distinct change from the era in which Dunaway was feted as a major movie star in films such as Network with Peter Finch, for which she won an Oscar for her portrayal of a driven TV exec; Barfly, for which she won raves as an alcoholic; the original The Thomas Crown Affair with Steve McQueen; The Towering Inferno opposite Paul Newman and Little Big Man with Dustin Hoffman. She also incarnated screen legend Joan Crawford in Mommie Dearest to whom she felt a direct emotional and spiritual connection.
"That whole period was terribly disconcerting," she says. "I was cared for and cosseted, and yet I was totally dependent. I didn't know where the cornflakes were kept. I didn't know how to turn on my own washing machine. That might sound very chic, but I'm telling you: When you don't know how your own life works, you get disconnected. So if you want something done correctly, do it yourself."
She claims that the stage is still the only place she feels at home although she has know idea where her drive came from. "I never made a decision to do this - the desire was always there. My grandmother told me I was talking about it at the age of two. My grandfather was a preacher and a teacher but there were no actors. We lived in a small country community. Later on, it was people like Joanne Woodward and Patricia Neal whom I sought to emulate. They were strong Southern women."
Dunaway was born in Tallahassee, Florida, the daughter of an army officer. Her parents divorced when she was 13. By the time she was 21 she was on stage at the Lincoln Center in New York. "The stage is the only place where you can really learn to act. You cannot take that to film. You need that technique but on movies there is too much happening to allow you to acquire it. You could never learn to act on a movie set," she says.
When she was scooped up as the bereted Bonnie Parker in Bonnie And Clyde in 1967 she knew exactly how to use her cool, high cheek-boned allure. "Bonnie was the closest to me in many ways of all my roles. She was just this small-town southern girl, coming out of nowhere, hungry and wanting to get ahead, wanting to do something meaningful and wanting to succeed. She had a kind of poetry in her soul, and she's still very much part of me to this day."
As well as her forties and fifties opening up fresh avenues they have also helped her to develop a new attitude towards the male of the species. "Once you reach a certain age," she says graciously, "you realise that men aren't as important as you once thought they were. It's awfully hard to make marriage work. I've tried it twice [to rock singer Peter Wolf and British photographer Terry O'Neill, with whom she has a grown-up son Liam] but I still don't know how. To have to think of somebody else so much of the time... it's just such a compromise." And compromise is a quality that Dunaway declines to countenance - at any age.
Ask her what she recalls most clearly from her formative years and she says: "My debut on the stage. I was a poor girl coming from the South and I remember that at the very beginning I really wanted to learn: I went to college, I finished it and I studied theatre arts. You know, acting on a stage every night for several days is the best way to develop your muscles as actress, it permitted me to learn the craft. And to learn it well."
Returning to the subject of the ageist attitudes Dunaway concludes: "There is an age problem in my country but thank God not so much in France or Switzerland or other European countries where actresses grow old too. In terms of the emotional structure of the woman and the short time that is given you to do what you do, it is the mental and physical wear and tear that takes its toll. The camera does take your soul in a certain way. It does take it out of you."
Share this with others on...