Ray Liotta ends up on the wrong end of a gun in Killing Them Softly
Andrew Dominik's Killing Them Softly opens on November 30 across the US. The film - adapted from George V Higgins' Cogan's Trade - tells the story of a hired hitman (Brad Pitt), who is called in to sort out a mob mess after low-rent crims (Scoot McNairy, Ben Mendelsohn) rip off a protected card game, leaving local hoodlum Markie Trattman (Liotta) to be the fall guy.
Liotta explained this week why the Cannes Film Festival makes a difference, how to make an unexpected entrance in a scene, when "love letters" can turn on one of the nicer bad guys, and the "good part" of New Jersey.
Anne-Katrin Titze: There is a beautiful detail in the film when you enter the room of the robbery, you have your jacket half off and half on, as though your character has already trapped himself.
Ray Liotta: Oh really? It wasn't that. I asked Andrew (director Andrew Dominik): Where am I coming from up there? What's supposed to be up there? I don't know. Maybe the bathroom or something. So I just figured I was doing something, you know, not expecting anything to happen. You know, you just do stuff. It was just kind of showing that I was coming from somewhere, as opposed to just walking.
AKT: Did you know what music would be heard during the scene when you are being shot at in the car? Love Letters?
RL: Is that what it is?
[Love letters straight from your heart,
Keep us so near while we're apart,
I'm not alone in the night,
When I can have all the love you write]
RL: Better than it being Killing Them Softly, that song…(a very funny Freudian slip, most likely meaning Roberta Flack's Killing Me Softly).
[Strumming my pain with his fingers,
Singing my life with his words,
Killing me softly with his song,
Killing me softly with his song,
Telling my whole life with his words,
Killing me softly with his song]
AKT: Yes. It looks as though it was choreographed. You are beaten up viciously, how was it notated in the script?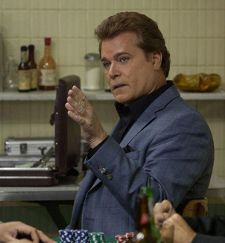 RL: It wasn't as vicious as what we ended up doing, that's for sure. What I liked about this, personally, usually I'm the guy who is doing the chasing and the beating. So it was nice to have them be worse than me. Once we were doing it on the day, I just realised, I know the two guys that did it, but I also know how vicious they are. So I wanted to incorporate some fear knowing where this can go, and as it keeps going, it just starts getting worse and worse. Also you don't see a lot in movies what you see here, that it hurts. That's why I didn't want to use a stunt person. It was much harder than I thought it was. I've taken hits from movies, but nothing as brutal as that… Me, Ray, I've never been in a fight, so I don't know, but I'm assuming it's not fun (if it's better to give or take a beating).
Liotta went on to speak about Markie, compared to other criminals he played:
RL: He's probably the nicest guy. Basically, he just ran a card game for his bosses. He did steal once, years ago but learned his lesson from that. Just one of the nicer bad guys… Andrew has a commitment. He really likes the whole idea of making movies. It suits his personality. He wants to make a good movie, which seems such an obvious thing. But not all directors just want to make great films.
AKT: What did the homework look like for you for Killing Them Softly?
RL: This one. It was more just imagining what it was like, you know. Sometimes you do technical things that you have to learn, whether it's swinging a bat or learning how to, you know, pretend that you know how to do an operation. In this one it was imagining the circumstances… I learned taking a punch. I've been hit in movies before but nothing like what this was.
AKT: Killing Them Softly had its world premiere at Cannes this year.
RL: I never watch any of the films when they are on TV. I haven't seen half the movies I've done. I saw this one because we were at Cannes. I saw it in Cannes, and I'll probably watch it tonight because my friends from New Jersey are coming and it's always fun to sit there with them. They like me sitting there, you know, I've known these guys since kindergarten (in the "good part" of New Jersey, where you don't get into fights, he clarified).
Liotta was born in Newark, New Jersey and ended by remarking he just finished playing a preacher, starring with Ashley Judd in first-time director Dustin Marcellino's musical fable The Identical.
Ray Liotta's complex portrayal of Markie in Dominik's well-written distinctive crime thriller about the American economy, adds a profound sense of alarm.
Read what director Andrew Dominik and Liotta's co-star Ben Mendelsohn said about the film here.
Watch the trailer:
Share this with others on...