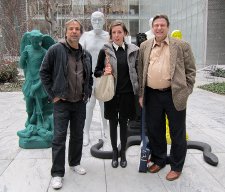 Giorgelli, Titze and Peña in MoMA's Sculpture Garden
Pablo Giorgelli, Anne-Katrin Titze and New York Film Festival director Richard Peña, became for a moment part of Katharina Fritsch's Figurengruppe (Group of Figures) in MoMA's sculpture garden.
Photo: Ed Bahlman
The external trip in Las Acacias takes us 900 miles from Asunción in Paraguay to Buenos Aires on board a lumber truck, driven by a reserved Rubén (Germán de Silva), with a mother (serene non-actress Hebe Duarte) and child as arranged passengers. The internal trip is about human connections.
Walking out into MoMA's Sculpture Garden with the film's director Pablo Giorgelli, together with New York Film Festival director and New Directors/New Films selection committee member Richard Peña, Giorgelli told me: "All my films are about family."
"This one is about fatherhood", he reflects now, two years after filming, "my own father and being a father", which will happen soon, as Pablo and his wife are expecting their first child later this year. The idea for the film originated about 10 years ago, in a time of personal crisis. The economic down-turn in Argentina left him out of work for almost a whole year, his father became very sick, and his long-time girlfriend left him.
In an early scene, Rubén takes off his shirt to wash at a truck rest stop and we see a large crescent moon scar on the actor's back, from the shoulder almost to the ribs, and I asked, if, in this film, where "nothing was improvised", this scar connects the man to the cut-down trees themselves, the Acacias of the title. "Yes, hard but noble, that's the wood of this kind of tree and that's Rubén to me," the director said, and added that the scar is real, from a past motorcycle accident, not a product of make-up, and that he at first had thought about giving the actor a tattoo, an idea quickly discarded. When he noticed the scar on de Silva's back at a dress test, he knew he had to film it. "I don't like obvious titles," he said.
I pointed out the symmetry between the opening sounds of the movie, noise from a chainsaw, which could well be from a motorcycle, until the image of the falling tree explains the origin. This "marked man" – who silently follows his routine, drives his truck, drinks mate, smokes cigarettes, and answers the question "Do you have a family?" with "No, I have a son" – relates to people through gifts.
Three gifts, to be precise. When I asked the director about them, Pablo explained, delighted by the discovery, that he had not seen them in context, but just as he himself loves to give gifts, so does Rubén. Gift number one in the film, is a DVD player for the protagonist's sister. "Is there a better gift? She can watch movies. Maybe she is lonely."
On board a lumber truck, driven by a reserved Rubén, with a mother and child as arranged passengers.
Gift number two has a personal background. It is a bike for the son and relates to a bike given to Giorgelli by his father when he was little. The third gift is a cup for the baby. "She has no father," the mother states calmly and seriously about her daughter and the audience believes her. For a moment, we might think about virgin birth, a sister to baby Jesus born in Paraguay, gifts from the wise men, a holy family completely real.
"I understand what you mean by holy", Giorgelli said. "I am not from a religious family. Family is the most important thing."
I asked Pablo about an idyllic scene at a lake, in which a black dog comes up to the two strangers, and connects them, for a moment, into the embodiment of a happy family vacation. They shot for 12 days at the place by the lake, and the stray dog, "the lucky one", came towards them at a gas station, and bonded right away. "Another miracle," Pablo said and added that the dog now lives with the production assistant in Buenos Aires. The transformation for Rubén in the film is about time. From his not having time to finding time. Wanting to "spend" more time is one of the narrative's hidden threads. He even oversleeps which he obviously never does when he is alone.
The making of Las Acacias is "full of miracles", Giorgelli added to bring us back to the miraculous baby, one of the most talked about performances at this year's New Directors/New Films Festival. This star's name is Nayra Calle Mamani as Anahi, a baby so disarming and unpredictable (chosen after Giorgelli had already auditioned more than 250 babies for the role), that he structured the whole shoot around her.
"Follow the baby" was the rule, while the rest of the cast and the crew were prepared for everything. The baby's cousin and a puppet functioned as body doubles but her face and a gaze that is totally fearless elevate the film to unexpected heights. To fully understand how a baby's yawn can be such a powerful plot point and have a big festival audience at MoMA laugh out loud with delight at a sneeze, you have to feel the chemistry between the three non-related family members in this extraordinary road movie.
Mother Hebe Duarte with baby Anahi, Nayra Calle Mamani and Germán de Silva as Rubén.
Pablo, who called David Lynch's The Straight Story - "a simple story" - one of his favourite movies, evokes pictures from Lost Highway in the road side view mirror that connects the audience with the world outside the truck. Jokingly, Pablo suggested the cast for a US remake: Salma Hayek, Viggo Mortensen, and exploding trucks crossing the Mexican border.
As a souvenir, Pablo Giorgelli, myself and Richard Peña, became for a moment part of Katharina Fritsch's Figurengruppe (Group of Figures) in MoMA's sculpture garden. You see a yellow Virgin Mary peeping over Richard's shoulder, a green archangel Michael behind Pablo, while a big black snake at our feet reminds us of our fall from grace.
Share this with others on...