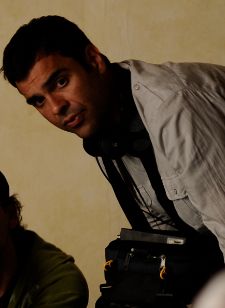 It won the Panavision Spirit Award for Independent Cinema at the Santa Barbara International Film Festival at now it's about to have its British première at the Glasgow Film Festival. We talk to director Zam Salim about Up There, and ask what's so funny about being dead.
"I wanted to make a film about loneliness, unemployment, misery and death," says Zam, "but if I'd done that literally I don't think anybody would want to watch it. So I gave it a twist. I wanted to look at the absurdity of it and make more of a genre movie."
Up There is the story of Martin (Burn Gorman), a dead man who is stuck in a boring job in the afterlife, welcoming new arrivals. His ambition to move up in the hierarchy seems destined for failure when he acquires an unfriendly new supervisor and he and his colleague accidentally lose a soul. Searching for it takes them to a seaside town where Martin gets a fresh chance to consider the point of existence.
"I think we've all been in those situations where we feel aimless and left behind," says Zam. He has explored the idea before in his short film Laid Off, which became a massive hit on YouTube, and this is a different version of the same idea, but this time he wanted to explore the potential of narrative rather than concentrating on mood. Whilst the short helped with finding funding, it also created problems, as potential supporters doubted that a feature length version would work. They thought it would be impossible to sustain the idea and tell an effective story.
Trying to do so certainly presented Zam with challenges as a writer. "When I think about characters I always think, what's the worst thing that could happen to them?" he explains. "And they're dead, so that's difficult. They can't fight, they can't get drunk, they can't drive fast cars. So I had to concentrate on these moments of self-realisation as they try to find out what they value in life, what's important. Sustaining the idea was difficult and it would have been easy to juice it up. I think it was a good thing that the short had already set the rules for that universe so I couldn't suddenly give them supernatural powers. The real challenge was in trying to maintain the simplicity of the narrative and tell a story about a fairly low energy character who doesn't have a lot of back story."
With no big stars, the film has to sell itself on its merits, so Zam is pleased that it has gone down really well at its two public screenings so far. "Our idea was to make more of an indie film than something in the American tradition. I think people go into it expecting a certain sort of thing and what they get is something a bit different, but we've been getting really good word of mouth. I'm keen to see what people make of it in Glasgow as it was all shot and and around Glasgow and on the west coast of Scotland, with a Scottish crew."
At this stage, when he's still waiting to see how Up There will fare, it's too early for Zam to talk about future plans. He does have a couple of things in the works, he says, but doesn't want to jinx them by talking about them. He's just hoping that his home audience will enjoy this warm-hearted, life-affirming film about being dead.
Share this with others on...