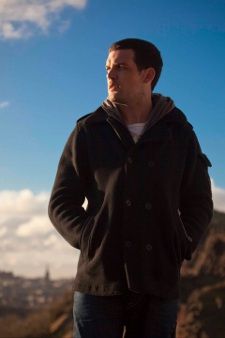 Adam Sinclair as Lloyd Buist
Irvine Welsh's Ecstasy - based on The Undefeated novella from Ecstasy: Three Tales Of Chemical Romance - is finally making its world premiere at this year's Toronto Film Festival, after 10 years in production. Like cult hit Trainspotting, it deals with the impact of drugs on people's lives but when I catch up with up-and-coming star Adam Sinclair, he insists that the film must be taken on its own terms.
"It's got a lot to live up to," he admits. "Trainspotting was a groundbreaking movie and we're not trying to be Trainspotting. It's a different movie about a different time. It comes from the mind of the same writer but it's a movie in its own right."
Sinclair plays Lloyd Buist, an ageing clubber, who is getting rather long in the tooth for the whole scene.
"It starts off with this guy and he's in the club scene and he has the love interest of Kristin Kreuk, who plays Heather," says the 34-year-old. "I do a lot of drug smuggling between Amsterdam and Edinburgh, bringing stuff back for a local gangster, who I'm in ties with. I'm kind of in his clutches really, through my character's intake of drugs. So Lloyd's trying to break away from this world and start a life for himself.
"The title Ecstasy doesn't just refer to the drug Ecstasy. It's more of an ambiguous title, it's about how do people find their own ecstasy in life."
Billy Boyd and Keram Malicki-Sánchez co-star in the film as Woodsy and Ally - two characters who are also trying to move on in life. Ally is trying to open a New Age vegan cafe, while Woodsy is attempting to "spread the word" of clubbing.
Speaking about the role of Heather, Adam adds: "Kristin Kreuk's character comes from the opposite end of the scale. She married young, she's a business professional and her she's in a boring marriage that she doesn't want to be in. So she leaves that and me and her character meet on the club scene. So we find love through the club scene and we're doing Ecstasy and it's being part of that. But we want to take the love on to the next stage and it's how do we leave that behind and move on to the ecstasy of love as opposed to the chemical ecstasy. So it's about that transition and the characters' evolution through that."
Given the success of Trainspotting and the long gestation period for Ecstasy, the interest in the finished film is intense, with the movie's Facebook site already boasting 350,000 followers. Author Irvine Welsh is certainly convinced that they've picked the right person in Adam, branding him a "true star" and describing him in one interview as "Clooney meets Banderas meets Colin Farrell".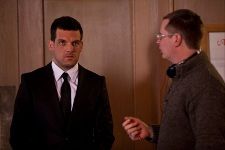 "I still owe him 20 quid for that," says Adam. "I respect his work. I remember I was so excited when I first read Trainspotting, then when I first saw the movie - it was cultural phenomenon. I was actually lucky enough to do post-synching ADR on The Acid House when I was at drama school - just going in, filling in voices but I was very much a part of the industry, doing it. So it was very exciting when I was a young actor. So to actually get to work with him... The style he writes in is so cutting-edge and he's really got his finger on the pulse of youth culture.
"To have a compliment like that. It was a little interview that he did online and when I first watched it, it actually shocked me that he'd said something so nice. It's all very well getting reviews or doing an interview and getting a write up in the paper, but having someone who you actually respect tipping their hat to you is a huge compliment that you can't even describe."
And there's a good chance that Adam is going to be getting plenty more compliments in the future, with his career already taking him a long way from his hometown of East Kilbride in South Lanarkshire. Now based with family in LA, he has had roles in a string of TV series including The Day Of The Triffids and The Summit and has even managed to sneak in a role in BBC3's Lip Service while he was back in the UK.
"I live in Los Angeles, I'm just back here working on a TV show," he says. "That's my home. I've owned an apartment there for 10 years, back and forth, splitting my time six months on, six months off. Summers in London, winters in LA, chasing the sun and it worked out pretty well.
"But then my children were born and I settled in LA, so most of my time is spent there. I just happened to be back filming exterior shots for Ecstasy and I got this job working on Lip Service. I did a Skype audition, which was a very weird thing. I had the producers sitting in a room in Glasgow, while I sat in my living room at 7 in the morning. It's a nice trip to come back to Scotland and we've been here for three months."
Adam has been attached to Ecstasy for six years and said he was worried at one point that he might grow too old to take the role.
He adds: "But I've been sleeping in Tupperware since I got the part and keeping myself fresh looking, laying off the carbs."
Originally the intention was to shoot the entire film in Scotland but the Credit Crunch and funding concerns put paid to that. In the end, most of the film was shot in Canada, with exterior shots in the Scottish capital."
"When it came to shooting Edinburgh, we came the first time and made the mistake of shooting touristy Edinburgh," he said. "We went back and showed it to Irvine Welsh and he said, 'That's not Leith.' So we thought we'd better go back and the final trip [director] Rob Heydon didn't come with us, so it was me and a camera crew. So I was getting to make the stuff up. I've never had so much input, it was so great to have that vehicle from start to finish."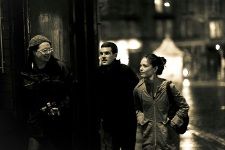 And he says that in many ways the length of time it has taken to come to fruition has helped him to get a better feel for the role, which he says contains aspects that are very close to his own life. Although he won't be drawn on the subject of drugs themselves, he is happy to admit that back in the day he was on that scene.
"I was very into the music and the dancing and I very much lived that life," he says. "I remember getting the script and saying to a friend, 'If I don't get this part I may as well give up acting, this part was written for me.'
But he adds: "If we did film it when I first got the role I don't think I would have played it the same. I had a lot more life experience to draw from. I'd become a father in that time, I'd become a different human being in that time.
"There were so many moments, not just the clubbing stuff, that were close to my own heart. In the movie, I lose my father, he dies of cancer and there's a scene where he tells me he's got cancer. I actually lost my father a week after we filmed that scene, to cancer. So it was very strange, it was art imitating life or life imitating art this time round. Even when we were doing the scenes about the dad telling me... you don't lose it on set, you're acting, let's be honest, but there was a moment when you think that's a wee bit close to the bone and you have to think, pull yourself together and do your job, here. So there were so many bits like that. The relationship with his friends - he has two best friends and I have two best friends. It was so bizarre. So to actually use that and have that life experience to pull from. I put my heart and soul into it, so we'll see."
And when it comes to doing justice to the Leith accent - used by Welsh in his books - he says, dropping squarely into Leither tones "I made a bit of a go of it, you know."
He adds: "Billy Boyd was working on Sunshine On Leith, The Proclaimers' musical, at the time so he had it down to a T - so I followed his lead. We'll see what they say. I think there's always room for criticism. I mean, you'll have the hard core Leithers saying, 'That isn't bloody Leith' as they did with Ewan McGregor, as they did with Robert Carlyle.
"The whole thing is that it's a universal, global film. I think this has a global message and it has to appeal to a global audience. I think the backdrop of Edinburgh is fantastic and it opens Scotland up to the rest of the world and I think if I do get criticised it's going to be by hard-core Leithers. And I do apologise if I've let them down badly. I hope I've done them justice."
The agony of waiting will soon be over, when the film premieres on this September at Toronto.
For more information on the movie, check out the official Facebook page -
www.facebook.com/IrvineWelshsEcstacy
. Plus Adam is planning to tweet about the film's progress at film festivals from his Twitter page at
www.twitter.com/adam_r_sinclair
You can also follow
@EcstasyMovie
or visit the
official site
for more information.
Share this with others on...