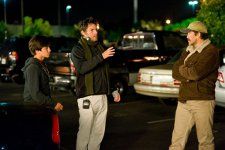 Chris, centre, with José and Damián on the set
Chris Weitz's A Better Life opens in the UK on July 29 and it's low-key, indie style is a something of a departure for the director better known for big-budget studio affairs such as The Golden Compass and The Twilight Saga: New Moon.
In stark contrast to the fantasy backdrops of those two films, A Better Life paints a vivid picture of the all-too-real trials and tribulations of an illegal Mexican immigrant and his son. Carlos (Damián Bichir) is a single dad who is trying to build the "better life" of the title for his son Luis (José Julián), who was born in the US and so has every right to stay in the country.
Catching up with him before the film had its UK premiere at the Edinburgh Film Festival in August, he says he was drawn to the project for both artistic and personal reasons.
"I felt very strongly about the quality of the script. It was the best thing I'd read in 20 years," he says. "I was drawn to the Hispanic themes in it because much of my family speaks Spanish. My grandmother [Lupita Tovar] is Mexican. She came to America to do silent film, she was signed on a studio contract when she was 17.
"And, having lived in Los Angeles for 20 years and never really understanding it, I thought I'd like to get to know more about my city and in so doing sort of understand a bit more about America as well. Because we live by the car and die by the car. We drive past all these people waiting for work on the corner and we drive past bad neighbourhoods, which aren't really bad at all. I think there was a universality to it as well, as regards the immigration question, which is becoming bigger and bigger."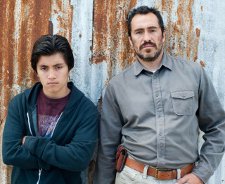 Considering the film is more niche than Weitz's other work, it wasn't as tough to get up and running as you might expect.
"It was actually easier to get this film going than The Golden Compass for instance. Because The Golden Compass was so expensive that the studio didn't understand what was going on," he says "It cost as much as the entire Lord Of The Rings franchise had cost but that was just because the price of CGI had changed in the interim. And eventually it was the cost of The Golden Compass which sunk it because it meant that you had to make it as mainstream as possible as far as the studio was concerned."
Casting it, he says, was also "strangely easy" although he initially thought it would be "impossibly difficult".
"Damián Bichir is a big star in Mexico so he brings so much sheer skill to the role and yet he's not readily recognisable to American audiences - and that's amazing," he says. "As for José, his son, he was just the real deal. He took three hours to get to our casting sessions because he took three buses and three hours to get back. And he had grown up in East LA and knew that life, but was home schooled, incredibly clever, incredibly acute in his observations of things. And with a young person it's just a question of keeping them focused and making them realise that they're sprinters and they have to be ready at any moment and they can't lose that focus. But Damian helped a great deal in getting him there. And as for the other kids in the neighbourhood, it was resisting the temptation to use anyone from the training grounds of Nickelodeon or Disney, who are all very cute and they can sing and they can dance and all that kind of wonderful stuff but they just don't feel right for this."
In terms of subject matter, the immigration question is becoming bigger and bigger in terms of movies. Whether it's people trying to get in to the States -
Northless
,
Sin Nombre
; trying to stay there once they've snuck in -
The Visitor
; or simply trying to establish a new life for themselves and their families -
Amreeka
, it's clear that the entire subject is a hot-button issue that stretches beyond the arthouse circuit. In the case of A Better Life, Carlos and Luis - who is already grappling with issues of identity - find their lives thrown into crisis when a newly-bought van that represents future hope for them both is stolen. It's a plot that may sound vaguely familiar.
"The bones of this movie are really very similar to The Bicycle Thieves," says Weitz. "The big difference is that the son is old enough to be an incredible pain in the ass. And why? Why is he? Well the social reasons for that are explored here.
"His father is working for what we used to call the American dream but the son realises that he's never going to have that for himself, or believes so, because what he sees on television is utterly outside of his grasp. And it's true that there is a transition between brand new immigrant and the first generation in this film.
"Both of them are deracinated, both of them have lost their birth right in some way and it's kind of fascinating. Now, in America, the really hard-core conservatives would call somebody like Louis an anchor baby. They believe that people come to the country in order to have children so that they can make an argument for staying in the country. Probably the reason that most Hispanics have children in America is that they're a very family-orientated culture and, like many people, they like babies - it seems a reasonable explanation."
Although Luis flirts with the idea of being in a gang, A Better Life doesn't take the cliched path towards violence. And Weitz is keen to point out that there is a world of difference between the portayal of gangs in music and onscreen and the reality of the situation for most people.
"It's really fun when people are shooting guns at each other and making drug deals and things and that's all very bracing... but that's not really the every day business of the average member of a gang," he says.
"People in gangs stop to have lunch and hang out with their families and the reason that they're in gangs is not to live it up in the way that's described both in gangster rap and in the popular culture - it's because they're in despair. There are no other options for them. The main determiner as to whether someone joins a gang or not is whether there is a parent around to keep them straight."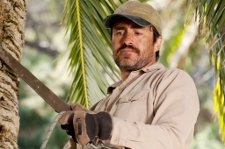 The subject of parents being around is one that is close to home for the director as well. When he's choosing a project he says "it's not the money it's the quality of the script that wins me over and so whatever is good enough for me to risk my mental and physical health is what will get me to do it".
He adds: "It's now at the point where I have a four-year-old son and I would like him to remember me. So it also needs to be enough that I potentially risk losing contact with my family and that's very hard to justify. Fortunately with this film, we were shooting in LA and I was able to go home at night.
"And you know if you're a director and you're not obsessional, there's something wrong. And yet, that's not necessarily good for a family."
So does being a director get any easier with practice?
"In terms of how I behave it's not any different because I try to approach it with a proper degree of respect for everybody's job and what they're doing," he says. "I understand their jobs better than I ever did, so that's become easier. However, I think that maintaining the patience that I need to keep a happy set and the diplomacy has become harder and harder.
"I was never a shouter and I never will be but that means internalising a lot of stress that otherwise I would be expressing upon the cast and crew - and they don't deserve it, they're all working as hard as they possibly can. It's really the pressure of the money that you're spending of somebody else's in the sense that I have a responsibility towards them."
In the case of A Better Life, it's unlikely that the investors could have asked for a better result.
A Better Life is in cinemas across the UK from Friday, July 29.
Share this with others on...