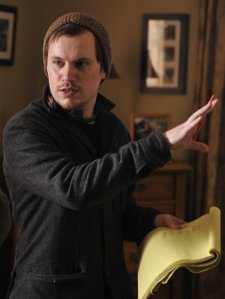 Oliver Sherman director Ryan Redford
Ryan arrives at a conference room in a city centre hotel looking a bit bleary eyed. He only arrived in Edinburgh yesterday and is in a jet-lagged induced coma. He's hoping the half pint of Guinness will perk him up. After some general introductions, and apologies for waking him up, I asked him how he got around to directing Oliver Sherman, after making some well regarded shorts, at the ripe old age of 32.
"I spent about five years getting what I thought would be my first feature off the ground and it was a long haul, but I had momentum, crew and some financing behind that project which led into this. I realised that that project was not going to happen and I need to do something else. I'd never adapted anything, but I started reading short stories by the dozen. There was this particular collection by Rachel Ingalls I came across in the bookstore, that I'd seen five years earlier in a 'best of' short story collection. I started reading them and there was this one story [Veterans] that lent itself to the themes and ideas that interested me. It had a lot in common with the earlier project and so I started writing."
Curious about the process of adaptation and collaboration I asked him if he'd been in touch with Rachel Ingalls.
"I haven't and I don't know if she's actually seen the movie. I don't know her in any respect and I didn't want to become indebted to what she had written. I don't know what she would think of the final project. I think it remained true in terms of the intensity, themes, timelessness and mythic nature of it. You don't know where or when it's set. Rachel's is set after the Korean war, but I let go of that, which drives some people crazy.
"Generally my approach was to make the story more emotional. Hers was lovely, and I think it's a wonderful piece of writing, but it's a cold and removed story. I want to make something that's immediately emotional and tough, and from the heart."
I probed as to it was about Ingalls' story that attracted him, particularly in the character of Sherman.
"It's about human beings to me. It's about a guy trying to find his place in the world. How to become an adult and a family man, and he doesn't understand these things. He sees this one guy that cared for him in the past and his model of life and he doesn't understand that. I get that. I see all my friends getting married and having families, but how does one become an adult? How does one raise a family and become a proper citizen in his community? These are baffling and difficult questions. It sounds crazy, but Sherman is the character I relate to the most."
I agree. Sherman is the film's protagonist, and his inability to come to terms with the way in which the man who saved his life, Franklin, has readjusted to small town citizenship, is what drives the tension and the narrative forward. I also wonder how difficult the move from short filmmaking to feature length production was.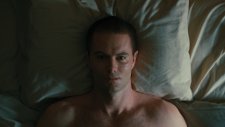 "It's different in that you're dealing with actors with a reputation, who bring a history and sense of confidence to the project. You want to listen to them without losing the film you want to make. However, I guess it's not so different from making a short. It's a bit longer and there are more filters to wade through before you get there. It took 21 days to shoot, plus a couple of pickup days for landscape shots.
"The script for what I previously thought would be my first film was a period piece and too big for a first feature. However, I had producers in place from that, so the crew was there, too. It finally became clear that I was spending too long on that previous project. Thankfully, for this film, the promise of some financing was there from before and it came together stupidly quickly.
"The first person we cast was Molly Parker [as Irene Page, Franklin's wife], and she happened to know Garret [Garret Dillahunt, who plays Sherman] from their time on Deadwood. She sent him a note saying, 'don't ignore the script', and I then met all of them. Donal's [Donal Logan, who plays Franklin Page] name kept coming up and up and up, and he and Garret had been on a television show a month earlier together. It all came together serendipitously."
I fawn over the look and feel of the film, its melancholy texture. How much deliberation and collaboration went into the film's design?
"I collaborated closely with the cinematographer and the production designer. There's what the movie's about and then there's how you address what the movie's about. The DoP and production designer were on the same page immediately. Antonio Calvache [the DoP] had done In The Bedroom and Little Children, which are very much about finding poetry and violence in small time life. We approached him for the previous project and he said yes to this."
The film seemed to be aiming for a sort of melodrama…
"Yes, it's definitely a melodrama, a lot of it around the family table. There are two main ways to find drama or tension. You can use score to underline things or you can use cutting to intensify things. Or you can go the opposite route. You can be understated and hold a shot too long, make it a little bit too silent and unnerve the audience. That's where we went from the get go."
What big influences bore upon the look of the film, then?
"It is very landscape intensive, so I showed the crew Terrence Malick's early movies, and also Andrey Zvyagintsev's first movie The Return, which is the best first feature I've ever seen in terms of its formalism and simplicity."
I admired the way that fade outs are used after particularly tense scenes, to give us a brief respite from the tension before we're thrust back in again…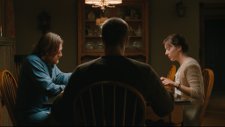 "Yeah, definitely, they were designed as chapter breaks in that way. They were intended as momentary relief. Otherwise it all would have been too much, I think."
Is he working on something new?
"There's something. I'm not wild about adaptation, but there's something new that I'm trying to adapt. It's going to take much longer. It is another short story, which I think lend themselves well to cinema, but it's a very loose adaptation. Even on this movie it was a very loose adaptation. I was adding stuff constantly, so that 50 percent of the movie isn't from the story."
Finally, I wonder what Ryan's plans are while in Edinburgh, and for the rest of the festival.
"I've been told to visit the castle and see the ghosts. I'd also like to see a few movies. I've been on the festival circuit a while now and there's a couple I've never got round to seeing. I'd like to see Our Day Will Come with Vincent Cassell."
We're told at this point that our time is almost up, but we chat a little about what the future holds for both of us. I admit that I don't know what to do with my life.
"I bet you get it from your parents, too. My parents are still asking me, 'What is the end game, Ryan?' They still don't understand, after I've made a real movie. It premiered at the Toronto Film Festival and had a brief run in Canada, but they're still like, 'Why the fuck are you broke?' It's a proper feature, and they get that, but on the other hand they wonder why I can't pay my rent."
Share this with others on...