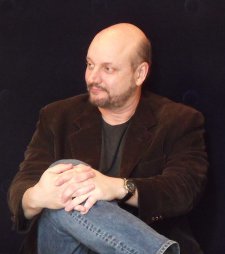 Juan José Campanella in San Sebastian
The Secret In Their Eyes has finally made it into cinemas after a hugely successful festival run and well-deserved Oscar victory. Its story, which tells of unrequited love, set against the backdrop of political upheaval in Argentina is also a crime mystery as the central character Benjamín Esposito (Ricardo Darín ), a court employee, attempts to unravel a murder that happened a quarter of a century ago.
It's a mix of genre that requires careful handling and it is testimony to the skill of writer/director Juan José Campanella that all the elements, plus mood changes from romance to thriller work well. When I caught up with him at San Sebastian Film Festival last year, the film was already winning fans - enjoying a lengthy box office run in Argentina, which had just put it forward as their Oscar submission - the second time he had enjoyed the honour, after Son Of The Bride (El Hijo De La Novia) made the shortlist back in 2001. So just how difficult it was to pull off the genre mix?
"In my previous films, I moved comfortably between comedy and drama - it's a lot of influence of Italian comedy, of humour in the darkness, let's say," said Campanella. "But in this one, the element of the thriller - for lack of a better word, I don't think that it's a 'thriller', there are no deaths seen in the movie, there's a body but we actually don't see any violence - but that has its own rules. You have to go from A to B to C, there's a procedural aspect to it so that was the hardest thing to mix with the romantic story, where the flow of events is more organic. So having to mix those two things was the hardest part, not the tone, but the structures."
The film is based on novel The Question In Her Eyes, written by Eduardo Sacheri, who also collaborated on the screenplay. Campanella says he spent a year after reading the book thinking about it before approaching the author about adapting it for the screen. By this point he said he had "decided the two or three great changes" that he wanted to make and "proposed not the challenge, but the game of writing it together".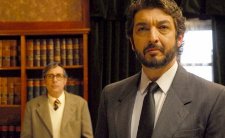 The idea of playfulness is evident throughout the film, which features a rich vein of comedy as well as romance and mystery and Campanella cites the likes of Mario Monicelli as a huge influence. Speaking of one specific scene in which Mario Alarcón's judge offers a hilarious dressing down of Benjamín and his alcoholic colleague Sandoval (Guilliermo Francella), he said: "Mario Largon nailed it from the first take. The challenge was to shoot the whole scene without stopping for laughing. I wanted it to be one single take to not ruin anything. The cuts in scenes generate a small interuption in the timing and the cut sometimes conspires against comedy. So I wanted to do it in one single take."
This idea of a single take also comes to the fore in a centrepiece scene of the film, in which the camera swoops down from the sky into a football stadium, where Benjamín and Sandoval are looking for a killer. It might be impressive, but Campanella isn't giving anything away.
"It's thanks to the camera operator who was able to jump from the helicopter," he said, laughing. "No.The scene was filmed in three days but post-production was nine months. Quite a lot of work by 20 people and obviously it's not only one single take. It's very difficult to explain, I would have to show you how they were shot because there are 30 different techniques in computing and there was also a lot of working with very little means to move the extras from one side to another because we didn't have a great amount of them.
"What I wanted to do was, when someone had the DVD, even going frame by frame couldn't realise where the cuts were made. It wasn't going through the back of a person, or whatever, so therefore, I'm not going to reveal it to you, now, am I?"
Another interesting aspect of the film - and of Son Of The Bride, which deals with Alzheimer's - is the age of his central protagonists - it's a fascination that the director freely admits.
"I am very obsessed with old age. I was looking for a word...'intrigued', no, it's more than that. Because I am afraid of it. I'm very afraid of it and I really think that it's so unfair. Perhaps I've been trained by my mother, who hated to grow old and decided to get Alzheimer's so she could avoid it - at least, that's my theory. She couldn't bring herself to, of course, harm herself, but she was not having a good time. Also, when you get to the age when you see your parents age, it's not an easy thing. And I'm really obsessed, too, in the sense that I like to have old people have a good time, as good as it can possibly get in the circumstances."
His films haven't come along too often, but in between times Campanella has carved a second career for himself in America, directing prime-time dramas such as Law And Order: Special Victims Unit and House.
"Every director has other things in between films," he said. "Most directors do commercials - even high-level directors do high-level commericals. I choose to do fiction because I think that even if the way to tell a story with a camera is very different between TV and movies - because of the size of the canvas just to begin with - working with the actors is the same. And I like those shows where I get to work with great actors, such as SVU or House, for example. That keeps me trained and I think the actors are the most important aspect of the movie and the more I can learn about that the better."
Despite his success on the small screen, he has never made a big budget Hollywood venture yet, although it isn't for the want of trying.
"We talk about it," he says. "It's very hard. I'm in development hell with a couple of projects. I don't even understand how they can live there [LA], working for so many years on a project that you have the feeling will never get made. I do work on projects, with very high-level producers, too, and they cannot get made. So it's very hard, so I keep going on those but, thank God, that I have a completely different life to go along with that. [In Argentina] I write a script and I know when I'm writing it that it's going to get made and that's something that very few Hollywood writers experience.
"Definitely it's easier in Argentina, but I also get to make movies that I don't think would get made in Hollywood. I was not a completely happy man when I was only a TV director. I was working on somebody else's story is not how my dreams went. But for the last 10 years I've been able to become a director who has made Argentine movies that have had some impact internationally. Some, not much, but enough. And a lot in Argentina. It has made it very pleasant to work on TV, because it's actually a rest to work on somebody else's story."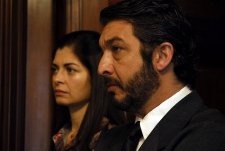 Although he has not yet made something in the mainstream, there was talk for a long time of a Son Of The Bride remake, with Adam Sandler stepping into the central role. When I suggest they might ruin it, he reveals that the company who was interested lost the option, but he isn't worried in the event that one does eventually go ahead.
"They won't ruin it because the movie is already made," he says. "They'll make a different version of it. It's like a different version of Hamlet. How does Shakespeare feel about Hamlet in space? So I think that it would be fun to see what they do with it. Also I'm a big fan of Scent Of A Woman - the Italian, version, the original - but also I find some very pleasant things in the American version. It's not the great experience that the Italian version was but I don't think that it ruined my Italian experience of it."
Perhaps, now that he has that Oscar win under his belt, getting one of his own films out of development will prove a lot easier - but for the moment, he's working on something completely different.
"Right now I'm beginning work on an animated movie that I always loved and I finally have the chance to do," he said. "It's in 3D. I don't do the animation myself. It's working title is Fussball because they are characters are football players [It's title is now listed on IMDB as Metegol].The thing about it is that the process is so slow that I can do other things because once you do the storyboard, which is heavy - it's like making the movie - then the animators take over and you just check to see how it's moving, maybe one hour a day. You see those Robert Zemeckis movies where he has a lot of animation and 3D and, in the meantime, he keeps doing live movies."
Let's hope Campanella follows suit and we don't have to wait another five years for his next live action film.
The Secret In Their Eyes is currently showing at selected cinemas across the UK.
Share this with others on...